U.S. training, assistance provides much-needed help in Ukraine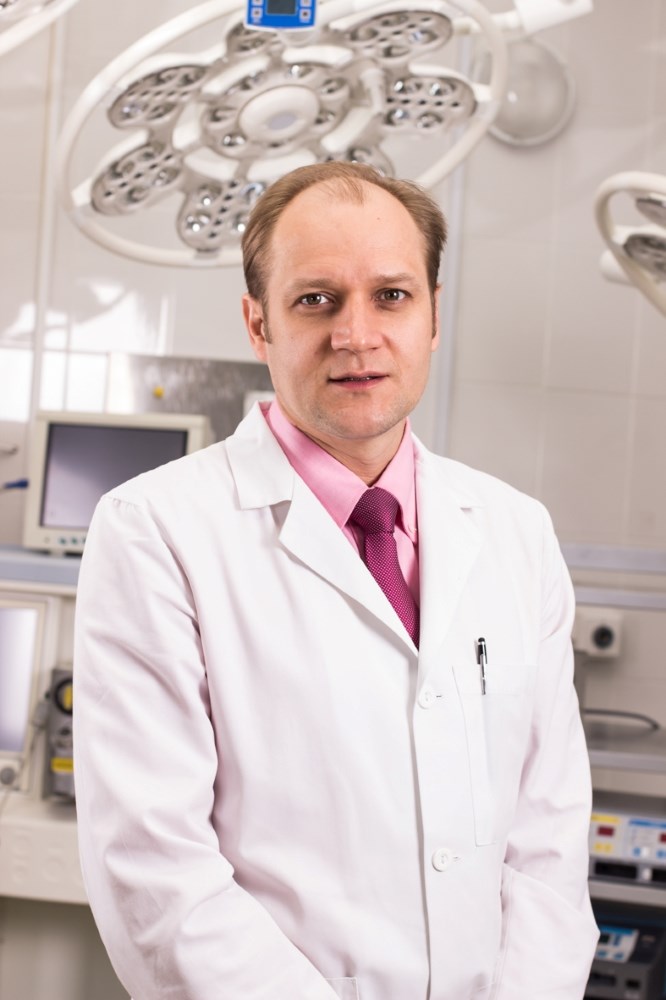 ASPS International Member Pavlo Badiul, MD, PhD, MSc, practices at Dnipro Medical University on the banks of the Dnieper River in east-central Ukraine. He teaches burn treatment and plastic surgery basics at his clinical base, the Burn and Plastic Surgery Centre in Dnipro, where he's treated scores of victims of Russia's war on his country. Dr. Badiul in 2014 received training in reconstruction, with a focus on microsurgery, under ASPS past President Gregory Evans, MD, at the University of California-Irvine (UCI), while in the United States as a PSF International Scholar. He reflected on that training and its current impact for Plastic Surgery Resident:
PSR: How has your training – and other aid provided by The PSF and ASPS – assisted efforts in Ukraine to treat those wounded in the war, as well as other trauma victims or those in need of reconstruction?
Dr. Badiul: My training with Dr. Evans in 2014 was of great importance in my professional life. I realized there were absolutely different levels of medicine and plastic surgery in particular. I tried to observe all the procedures performed in his department and learn everything I could to the fullest. Reconstructive procedures – especially microsurgical cases – were central to me.
At that time, the first Russian invasion into Ukraine had started and I knew that upon my return to Ukraine, there would be patients who needed microsurgical reconstruction. (Editor's note: Kyiv's Independence Square was the site of protests in February 2014 that led to more than 100 fatalities and hundreds more wounded when special riot police and protesters clashed.) After that, I completed training in other countries (Germany, South Korea, Romania), but the first important step was made thanks to The PSF International Scholar Program.
PSR: Can you discuss the importance of international help in an area of conflict such as Ukraine – where visiting surgeons provide help for local plastic surgeons?
Dr. Badiul: International help is crucial for us now. Many colleagues and friends help us in the form of delivering essential medicine, instruments and even some equipment. As to visiting plastic surgeons, we'd be happy to receive our colleagues and their help in hospitals – first of all, it means sharing experience that proves beneficial to both parties. Before the war, our friends from different countries came to our institution to perform complex reconstructive procedures with us and help with training. The situation today, however, is that the Russian army constantly shells peaceful cities and has no mercy for the civilian population, residential areas, schools or hospitals. More than 30 foreign journalists have already been killed in Ukraine; so any visit from our colleagues can be exceptionally dangerous.
PSR: How important is training young plastic surgeons to provide exposure to the kinds of wounds that you're currently treating?
Dr. Badiul: It's very important, of course, because we can never know when exactly we'll need that knowledge. With the kind of conflict there is now in Ukraine, all surgeons have to face treatment of wartime wounds – and it's impossible to remain uninvolved at such times. Taking into account the fact that the Russian invasion essentially has been happening since 2014, our doctors already have this experience and now, with the number of wounded being much greater because of an active war, our surgeons already know what to do to treat such wounds. However, in the beginning, a lot of mistakes were made, which resulted in negative consequences for the wounded.
PSR: How do you train young surgeons during an ongoing war?
Dr. Badiul: We continued theoretical classes for our young surgeons according to the curriculum, but those were online courses. In training, all our residents were assigned to hospitals that treated wounded patients and that needed extra help. Personal preferences (of surgeons' treatment abilities and interests) were also taken into account. Now the group of residents interested in plastic surgery and burn treatment are working with me, and they provide invaluable help to the hospital. It's a very good and extensive practice for them. They quickly learn up-to-date methods of reconstructive surgery, and they're already treating patients on par with more experienced doctors.