From breast reconstruction to the fashion runway
Patient of Courage: Dana Donofree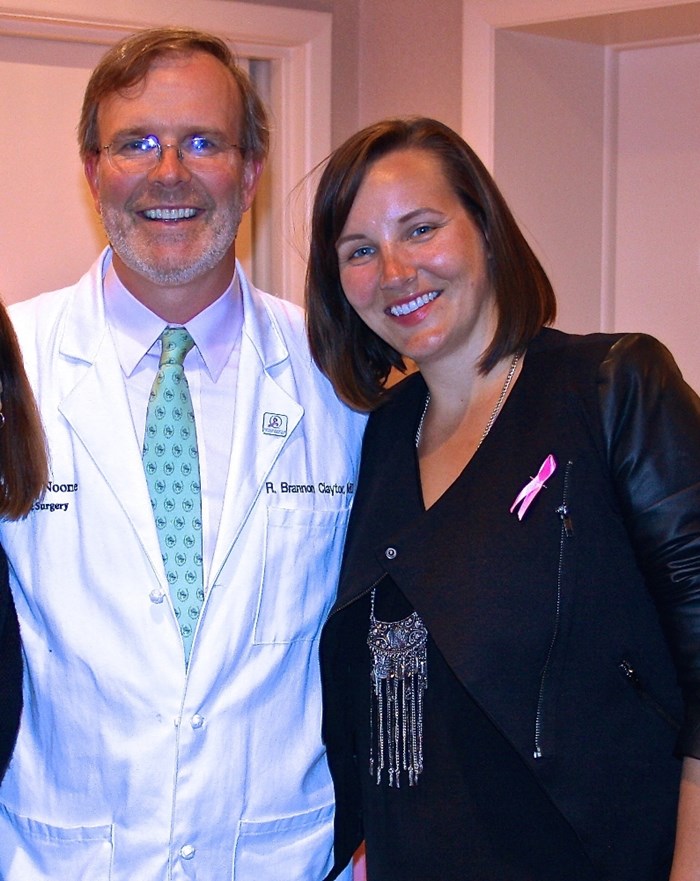 ASPS makes it a point to recognize remarkable reconstructive surgery patients each year at Plastic Surgery The Meeting during the Patients of Courage: Triumph Over Adversity program, but plastic surgeons encounter and treat courageous patients every day. With that in mind, PSN is honored to share the stories of these patient stories throughout the year, while highlighting the breadth of the specialty and the gifted surgeons who help them put the pieces of their lives back together again.
Dana Donofree was diagnosed with breast cancer two months before her wedding day at age 27. Donofree, now 36, underwent a bilateral mastectomy with implant reconstruction in 2010. ASPS member Brannon Claytor, MD, became Donofree's surgeon when she relocated to Philadelphia after her wedding and reconstruction surgery, and the two have collaborated at various events to raise awareness about breast cancer in the Philadelphia region and beyond.
Today, Donofree helps breast cancer patients and survivors find beauty and confidence through her lingerie and loungewear company, AnaOno. Her collection made a return appearance in this year's New York Fashion Week, as 30 individuals diagnosed with various stages of breast cancer strutted the runway in AnaOno's designs.
Donofree and Dr. Claytor share their thoughts on Dana's breast reconstruction journey and recovery process – and the value of helping others navigate similar waters.
PSN: What was your deciding factor in choosing breast reconstruction?
Dana Donofree: I wanted to look and feel the way I did before cancer. I was 27 years old, and I figured and hoped I had a lot of life to live. I had a wedding the following year and a beautiful strapless dress. The thought of not having breasts and wearing this beautiful dress I already bought was emotional. To know that I had an option to rebuild my breast was very encouraging.
PSN: How have your plastic surgeons played a role in your recovery process?
DD: Michael Bateman, MD (her surgeon in Denver), performed my breast reconstruction. He made sure I had my surgery completed and that I was healed in time. My port was removed 30 days before our wedding. It was right up to the tail end, but we made it happen. Dr. Bateman and the physician assistant were always supportive and encouraging. They gave me exercises to make sure my range of motion and strength was coming back after the surgery. They helped me through the tissue expansion process, which was really difficult for me.
Dr. Claytor has provided continuous support and information throughout my recovery process. Plastic surgeons are always improving techniques that can help us feel more comfortable, as well as help us understand that reconstruction isn't always perfect – and that there are always options to improve the outcome to help make me feel better about myself and my body.
PSN: What expectations did you have before surgery?
DD: In 2010, we didn't have as much access as we do today, and there weren't a lot of photos I could research. I got a lot of my information through Dr. Bateman. He showed me beautiful pictures of results from prior procedures. I was really excited about his technique and results. I wasn't prepared for how my body was really going to change. As a young woman, I thought I would just jump back into my old life, because I had friends who had done that after getting breast implants. But I learned that breast reconstruction is not a boob job. I wasn't prepared for the pain, lack of movement or how much I needed to rebuild my strength post-surgery.
PSN: How has breast reconstruction helped you rebuild your life?
DD: Being able to have reconstructive surgery and doing what I do as a fashion designer, I have really set my life on its own path by creating AnaOno, which is beautiful and pretty lingerie and loungewear for women who have had reconstructive surgery. In doing that, I get to help other women feel beautiful and confident. Having my own business by helping others has been totally life-changing for me.
PSN: What inspired you to create AnaOno?
DD: I've been a fashion designer my entire life. Once I got my expanders, which I called my "LEGO boobs" because they felt like building blocks on my chest, I understood why I couldn't wear my beautiful lace and satin underwire bras, so I started wearing layered tank tops, sports bras and things that suppressed me. Even though that made me feel comfortable, I was tired of it. When I went to the store to try on beautiful bras and lingerie, I found the underwires were extremely uncomfortable and painful. Nothing fit my new constructed body. I thought: "What am I supposed to do next?" My fashion background and my desire to feel sexy for my wedding sparked the idea.
I told Dr. Claytor I wanted to start designing bras for women who've had reconstruction. He was so encouraging and supportive, and he taught me about all the different sizes, dimensions and widths of breast implants. I was able to take his insight and my education in fashion and apply it to make beautiful bras that fit women – and help them feel like themselves again after they've had breast cancer. I started developing the idea in 2011 right after my wedding, and I launched AnaOno in May 2014.
PSN: How were you able to bring your creations to New York Fashion Week?
DD: I had an opportunity to partner with the #Cancerland organization to raise awareness about breast cancer and reconstruction. We wanted to really show the physical effects of the disease. What I realized while dressing women with reconstructive surgery is that many people don't know what reconstructive surgery is. We talk about reconstruction if you have breast cancer, but no one really talks about it if they don't. They don't really understand that a woman's breast tissue is getting completely removed to rebuild and reconstruct a new breast.
In 2017, we had 16 individuals all affected by breast cancer, and almost half battling metastatic cancer, on display to expose what reconstruction, empowerment and this side of the disease looks like. This year, 30 individuals diagnosed with varying stages of breast cancer took the runway dressed in AnaOno's Spring/Summer 2018 collection, showcasing the beauty, strength and determination of those living with the disease, while boldly redefining what it means to be a breast cancer patient. Hopefully, we're bringing awareness to women who don't know breast reconstruction is an option.
PSN: What's next for you and AnaOno?
DD: We want women to feel confident and proud of the war they've waged against breast cancer and the way it's altered their bodies. We'll keep putting real women with real stories and real bodies in fashion shows and all our campaigns, so we can expose people to the real side of breast cancer. We're not covering it up with a pink ribbon. We want future generations of women to feel empowered and encouraged to see their mothers or sisters go through such a body- and life-altering disease. We want to make sure these individuals feel comfortable no matter what.
PSN: What advice would you give women considering breast reconstruction but have concerns or fears?
DD: I encourage women to make their own decision based on what's in their heart – not pressures from partners or society. They should get educated on their options. Talk to other women who have been through it, and ask their doctors questions. You're in such a rush to complete treatment, but it's okay to slow down, take a breath and think about the decision you're about to make. You might want to wait six months to see if you want to get your nipples reconstructed. You may want to see if you even want breast reconstruction. You may just want to heal for a little bit, and that's okay, too. You can rely on your team to advise you in the best possible way – but it's still your body and your mind, and that's what you have to live with for the rest of your life.
In Dr. Claytor's words
PSN: What about Dana's story inspires you?
Dr. Claytor: Dana has an incredible inner drive to truly help women who are suffering from breast cancer, but also to look much deeper. She's simultaneously taking on the frontier of metastatic breast cancer while encouraging women to feel comfortable and amorous in their bodies. She wants women to know that fighting breast cancer does not mean that you cannot be sexy. Dana's story about seeking breast reconstruction is unique in that she was very young when she had her cancer diagnosis. She also opted for a bilateral mastectomy with tissue expander-based reconstruction, which is the more prevalent and common form of breast reconstruction in United States today. She opted for immediate reconstruction. Her goal was to regain her body as quickly as possible.
PSN: Dana's initial surgery was performed 1,700 miles away – what brought her to you?
Dr. Claytor: Dana's initial reconstruction was done by my fellow resident, Mike Bateman, MD, in Denver. Establishing a relationship with a patient is key to understanding the patient's goals and helping them achieve lifelong prosperity. Dana and I initially met through the organization Living Beyond Breast Cancer (LBBC). She was a speaker at our Breast Reconstruction Awareness Day event and provided tremendous insight to our patients about her experience. We have continued to work very closely in promoting the advantages of breast reconstruction for patients who've been diagnosed with breast cancer through her company, AnaOno and LBBC.
PSN: How have you and Dana collaborated to educate breast cancer patients?
Dr. Claytor: Dana and I have collaborated through LBBC, as well as Breast Reconstruction Awareness Day, to raise awareness and educate patients about breast cancer reconstruction options and to raise money for METAvivor research. Most recently, one of our patients from Claytor Noone Plastic Surgery bravely graced the catwalk to showcase one of Dana's designs in this year's New York Fashion Week. This was enormously empowering for our patient and emboldened her to give back something that had been taken from her by diagnosis and treatment.
This year represented the second fashion show event for Dana during New York Fashion Week. While Dana's fashion show last year was coupled with several other events, this year's show was a standalone, hallmark event that solely focused on her fashion designs and the message of raising funds for research on metastatic breast cancer. Last year, her fashion show had more than 2.3 million views on Facebook, and the latest count for this year is up to 2.7 million views.
PSN: If you could use one word to describe Dana, what word would you choose?
Dr. Claytor: "Resolute." I would add "tenacious" as well.