Norwegian association vice president provides international insights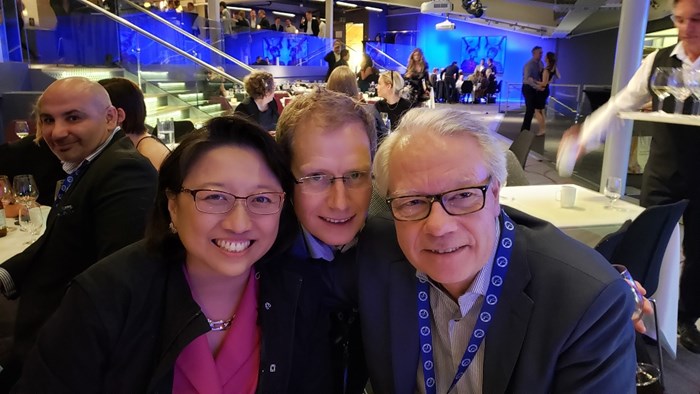 The past year has proved quite prolific for ASPS in terms of developing relationships with numerous plastic surgery societies throughout the world. At Plastic Surgery The Meeting 2019 in San Diego, ASPS signed eight new Memorandums of Understanding, one of which is with Norway.
Although Norway has a relatively small community of about 200 plastic surgeons, it has one of the world's highest ratio of plastic surgeons per capita.
In October, ASPS President Lynn Jeffers, MD, MBA, at the invitation of Norwegian Plastic Surgery Association (NPKF) leadership, presented at the NPKF annual meeting, where she informed local plastic surgeons and new members of breast surgery in the United States. Her presentation generated a lively discussion about the different approaches to breast cancer treatments. Norway has socialized medicine and a different mindset when it comes to cancer treatment and subsequent reconstructive surgery.
Tormod Westvik, MD, ASPS member and vice president of NPKF, is board certified in the United States. He studied and worked for almost a decade in the United States before moving back to his native country. PSN interviewed him to gain his unique insight into both countries' healthcare systems.
PSN: Can you first describe the healthcare system in Nordic countries and how it differs from the U.S. system?
Dr. Westvik: In Scandinavia, we have a socialized healthcare system, with a single government-run payer. Because of this, all resources are allocated based on how most people would get help for the same amount of money. The best comparison from a U.S. standpoint is to think of our countries as having nationwide V.A. healthcare systems.
In Norway, only hospital-employed physicians can admit and treat patients in the hospital system. The hospitals can only treat government-covered procedures. Any private patient has to pay out-of-pocket and be treated at a separate private clinic.
From a patient standpoint, it isn't possible to demand studies, procedures, etc., without the doctor confirming the medical need for these.
We have no personal litigation of doctors, and our judicial system is such that the losing party in any trial could be ruled to pay all expenses for both parties – hence, very few dubious lawsuits.
PSN: What does the path to becoming a plastic surgeon in the Nordic region entail?
Dr. Westvik: All medical students have to complete 18 months of internship, combining at least internal medicine, surgery and family practice to obtain an unrestricted authorization as a medical doctor.
Plastic surgery training is a minimum of six years – two of these being general surgery. We don't have a structured residency program, and there's no July 1 start date every year. Each teaching hospital (there are seven in Norway) has a set number of resident positions. These will be filled by application once a slot opens. Norway has case-log requirements, which were recently increased to 850 procedures. Because of the relatively low volume of cases performed, four years of plastic surgery often are not enough to fulfill these case requirements.
No hospital can by itself fulfill all requirements of plastic surgery training, hence the trainee will have to apply for vacant spots at other hospitals to complete their training. As a result, very few residents manage to complete their training in just six years.
PSN: Does the government or any other entity regulate the supply of plastic surgeons?
Dr. Westvik: The number of residents per teaching hospital is mainly regulated by the hospitals themselves, based on salary lines. From a hospital standpoint, the residents must generate reimbursements to justify the cost of their position. The Norwegian plastic surgery specialist committee (similar to RRC) will comment on the need for (or lack of) plastic surgeons. Currently there are 42 resident positions in Norway, with 14 of these finishing within two years, while hardly any attending positions are open.
PSN: What would you say are the main issues facing the specialty in Norway?
Dr. Westvik: We're training many more residents than the government-based system needs. The geographic distribution of plastic surgeons is very skewed, with the Oslo area having almost 50 percent of all plastic surgeons, while the Oslo population only represents 25 percent of the country.
Hospitals are more interested in volume and budget obligations than research and innovation. Hence, very little progress is seen in developing new treatment options compared to our neighbors Sweden and Finland. Hospital leaders have become a group of professional bureaucrats without medical backgrounds and few leaders see plastic surgery as an important specialty that allows other surgical disciplines to excel. It's not uncommon to have a non-physician as the head of a department.
Since all cosmetic procedures are performed in private plastic surgery clinics without residents, no teaching of these procedures occurs. Cosmetic treatments performed by non-medical personnel is problematic, as the public often thinks of these as providers of cosmetic procedures. It's difficult for the public to understand the difference between a plastic surgeon and someone providing "cosmetic medicine."
PSN: Can private-practice plastic surgeons help with hospital cases?
Dr. Westvik: There are only two ways to practice in Norway – hospital employed and private practice. Hospital-employed plastic surgeons will treat all covered procedures, i.e., only reconstructive patients. Private-practice will only deliver private-pay cosmetic procedures. No private surgeons gain hospital privileges.
Some private clinics have received contracts with the government to treat a set group of patients when the hospital is unable to treat them within the guaranteed timeframe from referral. These clinics still treat them in their own private clinics.
PSN: What are the most popular procedures in Norway?
Dr. Westvik: In terms of reconstructive (hospital-based procedures), breast reconstruction is by far the largest group. Body contouring after massive weight loss is also treated in certain hospitals with specialized teams. After that, melanoma care, for which some centers cooperate with other specialties for sentinel node biopsies and lymph node dissections; cancer and trauma reconstruction; and congenital malformations.
In terms of cosmetic work done in private practice, the most popular procedures are breast augmentation, liposuction, facial procedures, body contouring (including breast reduction), rhinoplasty and cosmetic treatments such as fillers.
PSN: What's the philosophy behind reconstructive procedures (in terms of tumor removal vs. double mastectomy), and what are the reasons for this preferred approach?
Dr. Westvik: Because of socialized medicine, all procedures will follow a cost-benefit principle. For instance, without clear survival benefits from contralateral prophylactic mastectomy, only BRCA carriers will be offered bilateral mastectomies and reconstruction. There's a huge push for BCT from the breast surgeons, and autologous reconstruction has so far been reserved for secondary breast reconstruction after completed XRT.
PSN: How does partnering with ASPS benefit the Norwegian Association of Plastic Surgeons?
Dr. Westvik: There are roughly 200 members of the Norwegian Association of Plastic Surgeons, with a 50-50 mix in terms of hospital-based and private-practice plastic surgeons. The number of female plastic surgeons is rapidly increasing, with a 50-50 distribution at the resident level. Partnering with ASPS opens the door to the most trusted resource in plastic surgery, which is of vital importance for a small country like Norway to expand on the level of treatment offered. Online resources will be highly valued – especially the ASPS EdNet and being able to access PRS online. Access to discounted meetings will lower the threshold for Norwegian surgeons to attend U.S. meetings.