Working to heal wounds via induced pluripotent stem cells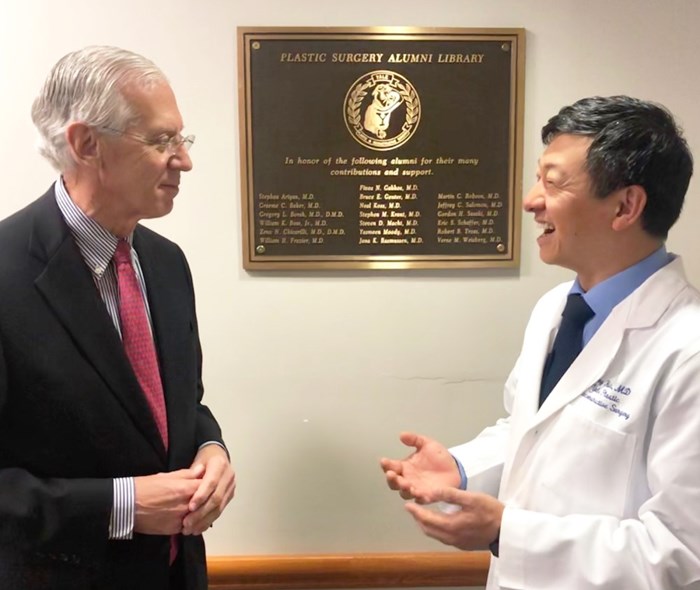 Editor's note: The following is part of an ongoing series highlighting The PSF Research Grant Award winners, and research they're conducting to improve patient safety and develop new technologies for plastic surgeons. These features examine research funding awarded prior to the current year, as projects to which grants were awarded this year may not yet have results ready to discuss.
THE RESEARCHER
Henry Hsia, MD
Title: Associate Professor of Surgery, Founding Director of the Yale Regenerative Wound Healing Center, Yale University School of Medicine, New Haven, Conn.
Award: National Endowment for Plastic Surgery Grant
Project: iPSC-based Tissue-Engineered Graft for Wound Healing
PSN: Can you tell us about the wound-healing breakthrough you hope to achieve?
Dr. Hsia: My lab is focused on how the wound-healing process can be improved for patients who suffer from problematic wounds, by using approaches associated with regenerative medicine. One of those approaches includes induced pluripotent stem cells (iPSCs), which have the ability to become any tissue in the body like embryonic stem cells but are derived instead from adult cells. This project takes advantage of advances over the past decade in iPSC technology, which allows my lab to easily produce iPSC-derived vascular cells that can be embedded in a collagen scaffold. This then allows investigations into how properties such as scaffold composition and other microenvironmental cues impact the embedded cells in ways that would facilitate regenerative healing of difficult wounds.
PSN: What have you learned thus far?
Dr. Hsia: We have preliminary data suggesting that the composition of scaffolds can consistently modulate embedded cells' ability to secrete proteins that are associated with anti-inflammatory and pro-angiogenic effects, properties which are associated with facilitating regenerative healing. We're in the process of confirming and following-up on these findings and hope to publish a manuscript in the coming months.
PSN: What do you see as this project's practical applicability?
Dr. Hsia: Developing an artificial skin-graft based on a patient's own cells has been a long-time goal of tissue engineering. This project would not only contribute to that goal, it also would help develop wound therapies customized to target a patient's healing deficiencies as well as provide a way to model and study those problems.
PSN: Who are your mentors and key collaborators on this work?
Dr. Hsia: This project relies on a multidisciplinary approach, and I'm extremely fortunate to have in my lab Biraja Dash, PhD, a scientist who brings to the project his deep expertise in iPSC technology. I'm also very lucky to have as my collaborators Alan Dardik, MD, a vascular surgeon and colleague at Yale, and Francois Berthiaume, PhD, a biomedical engineer at Rutgers University. Both are international experts in their respective fields with their own established funding from agencies such as the National Institutes of Health and Department of Defense. In terms of my own development as a surgeon-scientist, there's a very long list of people who have provided inspiration and advice over the years, but I'm particularly grateful for the research mentorship of Jean Schwarzbauer, PhD, at Princeton University and Stephen Lowry, MD, former chair of Surgery at Rutgers-Robert Wood Johnson Medical School, who passed away several years ago.
At Yale, I happily acknowledge the strong support of our Chief of Plastic Surgery, John Persing, MD, and our Department of Surgery Chair Nita Ahuja, MD, who've endeavored to create an academic and clinical environment at Yale conducive to surgeon-scientists like myself. Finally, I'd like to express my deep gratitude to Deepak Narayan, MD, a colleague and friend at Yale, who I've known since I was a medical student and generously provided me with important advice at key points in my life and career, and whose untimely passing this past year was a tremendous loss to me as well as plastic surgery research and practice in general.
PSN: What did you want to be when you grew up?
Dr. Hsia: When I was in grade school, I wanted to be a map maker. I liked the idea of always knowing where I've been, where I am and where I can go, and I spent many hours drawing maps of various places, both real and imaginary. At some point, I stumbled on an atlas of human anatomy, and I suppose that was my entrée into medicine and eventually surgery. Even now, when I have free time, I'll often spend it browsing various maps and atlases, especially old or unusual ones. And while it's no longer all that useful in this age of phone-based navigation apps and GPS, if I had to claim a superpower, I would say it's my ability to use any good map to quickly locate myself and find my way anywhere.
PSN: What has been your favorite scientific or research project to date?
Dr. Hsia: I'll stay on the theme of when I was young and mention a class project where we had to figure out a way to drop an uncooked egg from the third floor of our school and have it land on the ground intact. While classmates focused on designing parachutes and gliders, I estimated the amount of force the egg would sustain on impact and built a box for the egg using various lightweight household items that could absorb that force and shield the egg. It didn't look very high-tech or as cool as some of my classmates' ideas, but it worked and got the job done.
PSN: How do you spend your time away from the lab?
Dr. Hsia: When I'm not at work, I'm with my family: my wife, two teenage daughters and aging parents, as well as a very large extended family. Although work-life balance remains a perennial challenge, we do our best to keep up certain habits and traditions in the hopes of keeping us grounded as a family. One habit we've continued since my daughters were babies is reading to them. We've gone from "Goodnight Moon" to "Olivia" to "The Cricket in Times Square." Believe it or not, even now with my daughters in high school, I still read to them regularly, though usually just once a week if we're lucky and almost always on a weekend night. If I forget, my daughters will often remind me. At the moment, we're going through the Sherlock Holmes stories.
PSN: What kind of music do you like to listen to in your lab?
Dr. Hsia: I like a wide range of music and will let my residents, nurses or patients (if they're awake) choose. But if left on my own, I'll choose music I grew up and came of age with: Billy Joel, Elton John, Queen, Sting, REM, the B-52s, etc.
For more information about the many research studies funded by The PSF or to support our current and future research initiatives, please go to ThePSF.org.