Remembering ASPS past President James Hoehn, MD, 1938-2020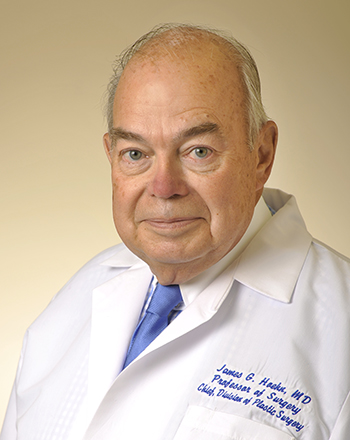 ASPS is mourning the loss of past President James Hoehn, MD, professor emeritus of plastic surgery at Albany Medical College in New York. Dr. Hoehn passed away Thursday at age 82.
Born in Detroit in 1938, Dr. Hoehn earned his medical degree at Northwestern University Medical School in 1964 before beginning a general surgery residency at the Mayo Clinic in Rochester, Minn., where he would also complete his plastic surgery residency.
"Our specialty has lost a longstanding contributor and leader," says ASPS President Joseph Losee, MD. "I enjoyed getting to know Dr. Hoehn when I was in Rochester and during trips to Albany as a visiting professor; I was happy to speak to him last during virtual Plastic Surgery The Meeting this fall."
Dr. Hoehn's career-long commitment to Albany Medical College began in 1971 when he worked as an attending plastic surgeon at Albany Medical Center Hospital, in addition to other hospitals in the area, notably being involved in the regional cleft care team and also serving as director of the hand clinic at the Center for the Disabled in Albany.
ASPS member Ash Patel, MBChB, who is professor and chief of plastic surgery at Albany Medical College, says Dr. Hoehn was one of the main reasons he joined the program.
"It has been one of the great honors of my career to follow in the footsteps of Dr. Hoehn," Dr. Patel says. "He was known fondly around here as 'Big Jim' – not just because of his stature, but also because of his larger-than-life personality. He devoted his career to plastic surgery here, and without his presence, plastic surgery in this part of New York would not have been the same. Although he was renowned at both the national and international levels, through the residents he trained here and the work he did, he leaves a strong legacy in this part of the country."
As the years passed, Dr. Hoehn's interest in fortifying Albany's plastic surgery program never waned.
"Even during the pandemic this year, I could count on him to be there for virtual teaching conferences," Dr. Patel notes. "He remained deeply committed to the residency program and seeing it flourish."
In addition to serving as ASPS president in 1993, Dr. Hoehn also served as president of the American Association of Hand Surgery, the New York State Society of Plastic Surgeons and the Society of Plastic Surgeons of Upstate New York.
From an organizational leadership perspective, Dr. Hoehn was a trailblazer in many ways says ASPS past President Ronald Iverson, MD, who calls Dr. Hoehn his mentor in societal leadership.
"He was one of the Society's most outstanding leaders," Dr. Iverson says. "His physical stature could be intimidating, but he didn't seem to take advantage of that. He listened very carefully to what everyone said and used that to reach a consensus."
Dr. Iverson was a longtime friend of Dr. Hoehn, and the two served together as delegates to the AMA. Dr. Iverson says Dr. Hoehn also had a profound impact on global plastic surgery during his long tenure as general secretary of the International Confederation of Plastic, Reconstructive and Aesthetic Surgery.
"Today, ASPS is very focused on international relationships, but that wasn't as common in the 1990s," Dr. Iverson says. "He had a unique ability to meet with people from different parts of the world and really recognize their importance – a lot of other countries didn't get the same level of recognition as ASPS, but he saw the global importance of bringing plastic surgeons together from around the world."