Remembering ASPS past President Norman Cole, MD, 1936-2021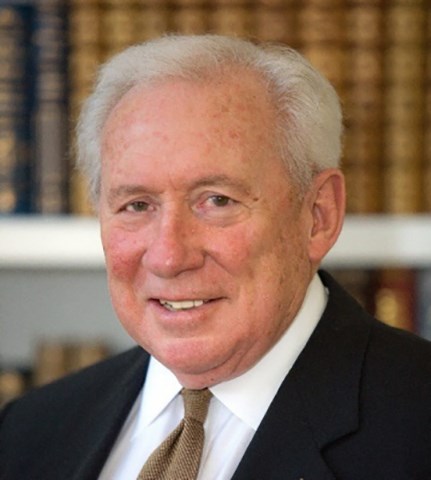 Plastic surgeons are paying tribute to ASPS past President Norman Cole, MD, who passed away on Dec. 29. He was 85.
During his term as ASPS president in 1992, Dr. Cole became a prominent advocate for the specialty in the media and federal testimony, as regulatory scrutiny of silicone gel-filled breast implants intensified to a point that would ultimately result in a 14-year moratorium on the devices.
A skilled plastic surgeon admired and respected by his colleagues, Dr. Cole cemented his legacy by founding the National Endowment for Plastic Surgery, an enduring, self-sustaining fund within The PSF to support research directed toward immediate issues facing the clinical practice of plastic surgery. Dr. Cole said creating the Endowment brought him the greatest satisfaction in his career and noted that it was sparked by the breast implant crisis and the lack of research the specialty had available to help its own case at the time. The situation created an opportunity for a unique appeal to plastic surgeons to help fortify the specialty's scientific standing and finance such research in the future.
"Dr. Cole will not only be remembered as a remarkable surgeon, but a true leader for our specialty," says ASPS President J. Peter Rubin, MD, MBA. "He helped guide plastic surgery through a challenging time and remained steadfastly committed to making sure people knew the importance of scientific data and research in the work we do – always remaining committed to encouraging future research and breakthroughs for the specialty."
Dr. Cole was born in Prairie City, Ore., the first member of his family to become a physician. He attended Pacific Union College before pursing his medical degree at Loma Linda Medical School. His interest in plastic surgery took root during general surgery training at L.A. County Hospital, after which he served in the U.S. Army, ultimately receiving the Commendation Award in 1967. When his time in service ended, he pursued plastic surgery training under the mentorship of Kenneth Pickrell, MD, at Duke University.
"Dr. Cole was a believer in science and research," says ASPS/PSF Board Vice President of Education Scott Hollenbeck, MD. "He worked hard to provide opportunities for plastic surgeons to flourish in these areas – even more recently, he was instrumental in the creation of the Pickrell Lectureship and associated alumni events at Duke which helped to reunite many of Dr. Pickrell's past residents."
While maintaining a strong solo practice in Louisville for 30 years, Dr. Cole also established himself as a leader in the specialty. In addition to his term as ASPS president, he also served as president of the Southeastern Society of Plastic and Reconstructive Surgeons in 1992; president of The Aesthetic Society in 1988; and president of ASERF from 1997 through 2001.
ASPS past President Rod Rohrich, MD, was chair of the Young Plastic Surgeons Steering Committee – his first experience with the ASPS Board of Directors – during Dr. Cole's presidency and remembers being instantly impressed with Dr. Cole's leadership.
"He was a master in negotiating and finding common goals – even among parties that did not like each other," Dr. Rohrich says. "We in plastic surgery were so unprepared for the onslaught of negative press and media at the time of the breast implant crisis, but most importantly, we needed to have independent research funding to help solve problems in plastic surgery. He truly brought all of us together for the common cause of advancing the specialty through unbiased funded research to solve clinical problems."
Dr. Cole was the recipient of the 2009 ASPS President's Award, the 2001 PSF Distinguished Service Award and the 2004 ASPS Special Achievement Award. He was recognized by The Aesthetic Society with the Distinguished Service Award in 1995 and the Special Merit Award in 2002, in addition to being recognized by SESPRS as a recipient of the Pickrell Award in 1994, and as the Upchurch Lecturer in 2003. Dr. Cole and his wife, Patricia, were also inducted in 1998 as original members of the Maliniac Circle, further demonstrating his commitment to The Foundation.
"If I could do it all over again, I would not change a thing," Dr. Cole told PSN in 2010. "I could not have found anything to do in life that could have been more interesting or that could have brought me more personal satisfaction. If I had done anything differently, I might have messed the whole thing up."
An extended tribute to Dr. Cole will be featured in the January/February 2022 issue of PSN.