ASPS member is first plastic surgeon to win Kappa Delta Elizabeth Winston Lanier Award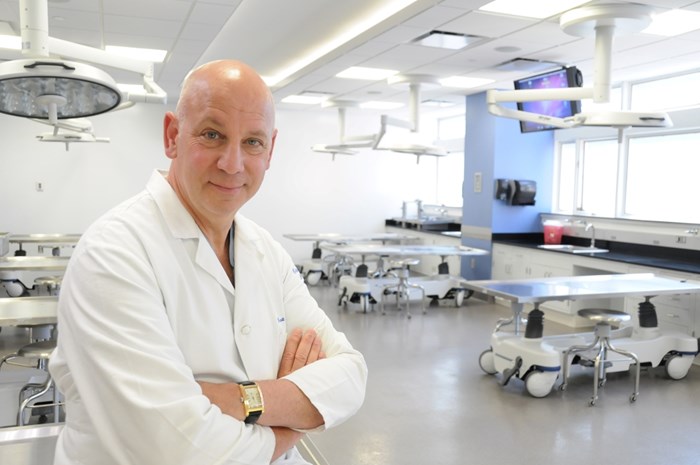 ASPS member L. Scott Levin, MD, FACS, made history in January as the first plastic surgeon to win the Kappa Delta Elizabeth Winston Lanier Award, which recognizes research in musculoskeletal disease or injury with great potential to advance patient care.
"It's incredibly rewarding to receive this award," Dr. Levin says. "From the perspective of recognition by the orthopaedic community that the science, research and impact of clinical development matters, I think this signifies an understanding of the importance of reconstructive surgery and, more importantly, reconstructive microsurgery. In terms of what is happening every day with trauma, tumor, infection, limb salvage, hand surgery, brachial plexus surgery – it's a validation that our skill set in plastic surgery is needed."
Dr. Levin was recognized for a four-decade career built on the bedrocks of both studying and popularizing microsurgery in orthopaedic and plastic surgery to improve salvage, reconstructive and restorative procedures. Board certified as both a plastic surgeon and orthopaedic surgeon, Dr. Levin says the work that all plastic surgeons do can – and should – cross specialty boundaries to improve patient outcomes.
"Whether we're talking about cleft lip and palate, spina bifida, extremity trauma, hand surgery, craniofacial surgery, what we're doing is plastic surgery," he says. "Plastic surgeons lead with some of our unique skills, but we interface with every other surgical discipline routinely. We have these unique skill sets – particularly as it centers around microvascular surgery – and we routinely talk to one another in ASPS or AAPS or ASRM, but what we need to be doing is going to other physicians and sharing with them the unique abilities that we have that directly impact their fields."
Dr. Levin practices what he preaches. He uses the Human Tissue Laboratory – which he first built at Duke University in 1995 and then at the University of Pennsylvania in 2011 – as the ultimate training tool for microsurgery Fellows, hand Fellows and plastic surgery residents. The ability to learn anatomy and acquire surgical proficiency, he says, is best honed through using fresh cadaveric material. Moreover, he says, the lab serves as a gathering place for multidisciplinary teams to work together, advance the medical field at large and improve patient outcomes.
Dr. Levin introduced the orthoplastic discipline, which simultaneously applies the principles and practices of both plastic surgery and orthopaedic surgery to clinical problems. In 1993, he also laid out the microsurgical reconstructive ladder, which defined to orthoplastic principles to establish a paradigm in which microsurgical techniques could be used for a specific orthopaedic condition. In 2015, Dr. Levin led the team that performed the world's first bilateral hand transplant in a child using on vascularized composite tissue allogtransplantation (VCA) VCA. A year later, he led the team that performed the first transcontinental hand transplant.
Over the course of his career, Dr. Levin has led national organizations, including serving as chair of the Board of Regents for the American College of Surgeons and president of the American Society for Reconstructive Microsurgery, American Society for Reconstructive Transplantation, American Society for Surgery of the Hand and Association of Academic Chairmen of Plastic Surgery. He has also been a member of the board of directors of the American Board of Plastic Surgery. Even with a loaded resume, he says the Kappa Delta Elizabeth Winston Lanier Award, represents a significant achievement in itself.
"It's recognition that the work we've done made an impact and, most importantly, helped patients," Dr. Levin tells PSN. "It's not science for science's sake – all the research, lab work and efforts made on VCA is helping patients. To me, that is the greatest recognition that we've changed paradigms."
The "we" factor is important to Dr. Levin, who took time to acknowledge a considerable list of residents, Fellows, partners, attendings and mentors that he's had over the course of his career.
"The list is formidable," he notes, acknowledging his debt to mentors including Donald Serafin, MD; William Barwick, MD; Chris Pederson, MD; Harold Kleinert, MD; Luis Scheker, MD; and Fu-Chan Wei, MD. "I personally stand on the shoulders of giants – those who trained me in orthopaedics, plastic surgery and hand surgery, and allowed me to amalgamate all of this information and create my own path from their mentorship. I had examples set by remarkable individuals who, during their time, were leaders and pioneers. It's not that I'm unique – and I would never insinuate that I've gone beyond them – I'm just part of the continuum. No person gets to where I am alone. I'm still just trying to make my teachers proud. That's my motivation."
In 1978, Dr. Levin published his first peer-reviewed study, "Digital Sensibility Following Replantation." In the years since, he's amassed more than 400 papers, 93 book chapters and 11 books dedicated to extremity reconstruction.
"On the first day of my internship, David Sabiston, MD, quoted Sir William Osler: 'The key to success is two words: hard work,'" Dr. Levin recalls. "Nobody gets up and just gets the Kappa Delta Elizabeth Winston Lanier Award. It's a lot of hard work, team building, collaboration and commitment. You don't just wake up and make a scientific discovery. It's a culmination that can cause a paradigm shift."