Society leadership discusses breast implant concerns with patients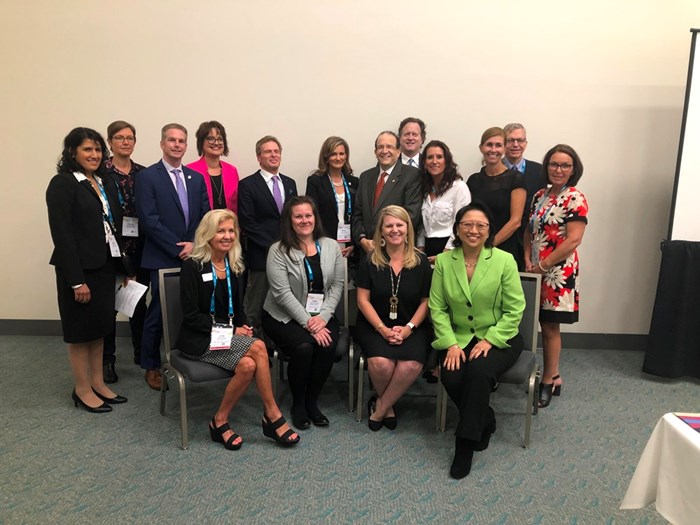 In the wake of increased scrutiny on breast implant safety amid reports of breast implant-associated anaplastic large-cell lymphoma (BIA-ALCL) and concerns surrounding a range of symptoms identified with breast implant illness (BII), plastic surgeons and patient advocates met Sept. 20 in San Diego to share perspectives and find common ground for potential collaboration.
In addition to the seven patient advocates and leadership from ASPS and The PSF, the summit also included Binita Ashar, MD, director of the Division of Surgical Devices in the FDA's Center for Devices and Radiological Health.
For two hours, attendees addressed a variety of issues including insurance coverage for those diagnosed with BIA-ALCL, the difficulties in defining BII without further data, and how to better educate the public and physicians of symptoms that may indicate a problem related to breast implants. The group also discussed opportunities to work together to improve patient safety.
ASPS/PSF Board Vice President of Development Scot Glasberg, MD, who organized and moderated the summit, says the meeting was successful in achieving its goal of creating an environment that would open the door to in-depth discussion of potential areas of cooperation.
"Conversation flowed very easily in the two hours we were together – it could've easily gone to four or six," says Dr. Glasberg. "We found many things we could collaborate on and developed a worklist of items to address – including patient safety, surgeon education and proper informed consent."
The decision to formally engage with breast implant patient advocates was not made lightly, says Dr. Glasberg, acknowledging a history of impassioned debate oscillating between research and anecdote. Everyone in the room acknowledged the need for more research, transparent communication and, above all else, the importance of patient safety.
ASPS immediate-past President Alan Matarasso, MD, describes the experience as groundbreaking.
"Knowledgeable, concerned parties got together to share the goal of patient safety – what we can do now and in the future," he says. "It exceeded all expectations. We brought together the various stakeholders to understand, on a very personal level, their concerns. We discussed them and made plans for future engagement, which is key."
The summit's format allowed the patient advocates to share their concerns, as well as those of the breast-implant patients with whom they've been in contact and represent. These topics included insurance coverage for various treatments related to BIA-ALCL, expectations for evidence-based medicine, financial considerations that could affect future treatment, and the flow of accurate, real-time information.
"I am not anti-implant," said Breast Implant Victim Advocacy co-founder Jamee Cook, who says she began to suffer health problems shortly after being implanted with PIP textured breast implants in 1998. "I'm for the safest product possible."
That sentiment was echoed by Raylene Hollrah, founder of Just Call Me Ray, an organization that helps raise awareness of BIA-ALCL. Hollrah stressed the importance of providing information to make patients aware of risks, but also to calm fears when, for instance, a device is withdrawn from the market, such as the recent Biocell textured breast implants in July.
The National Breast Implant Registry (NBIR) is also recognized as an important tool to provide information to patients who are concerned about the type of implants they may have now or in the future.
Practical concerns
Cook says the specter of unfunded, but potentially necessary medical follow-up work, has some patients concerned.
"We're worried about patients who can't afford to have their implants removed," she said. "How do we make sure that patients who are sick get into the system and see a doctor – and have their cases be included in NBIR?"
"There is a lot of misinformation out there," added Terri McGregor, founder of the website biaalcl.com.
The patient advocates also wanted plastic surgeons to better understand the patient perspective of being diagnosed with BIA-ALCL.
"Don't say ALCL is easily treatable – that's not true for many of us," said McGregor, who was diagnosed with BIA-ALCL in 2015. "We have patients who want our help to direct them to the right doctors who are accurately informed how to help."
Julie Lykins, representing the California chapter of the Breast Implant Safety Alliance, added that her impression is that some physicians aren't fully engaged in addressing or recognizing BIA-ALCL.
"It feels like not all plastic surgeons are on board – that they don't want to treat it, or believe there are problems," she says.
ASPS President Lynn Jeffers, MD, MBA, and The PSF immediate-past President Andrea Pusic, MD, MHS, assured the advocates that plastic surgeons should not – and will not – abdicate their duty as physicians.
"If plastic surgeons put a device in, we have responsibility to recognize the complications associated with it," Dr. Pusic said. "We need to be active participants in these diagnoses."
Leap of faith
Dr. Glasberg said the preparation for the summit, which included several meetings with BII and BIA-ALCL patient groups in the weeks leading up to it, helped establish a feeling of trust and cooperation.
"We were able to get productive dialogue going because we invited the patients to the summit – and many of them saw different aspects of the meeting itself, some participated on panels and others were in the audience," he adds. "I'd say that we now have a very good template for how to work with other patient groups in the mutual interest of everyone: patients, advocacy groups, surgeons and the community in general."
Prior to Plastic Surgery The Meeting, ASPS provided complimentary booth space in the Exhibit Hall for the patient advocates representing the Breast Implant Safety Alliance, where they were able to share their platform with attendees. Breast implant manufacturers as well as other plastic surgeons also conducted meetings with the patient advocates.
"At one point, we were concerned about potential protests in San Diego, but that didn't occur – I'd like to believe that's because of the discussions we've had with patient groups heading into the meeting," Dr. Glasberg says. "These patients felt comfortable that we were coming to this topic from the right place, so all of those things simply went away."
Dr. Matarasso says the summit engendered an even stronger sense of patient safety and welfare on behalf of the Society, and the summit does not represent the end of the conversation. New initiatives are in development with ASPS and patient advocates working together.
"We're on the same side of this," he says. "The goal is to make these procedures better and safer for patients, and to address the issues of concern that surround them as soon as they arise. We're working together now. We plan to speak on an ongoing basis and will continue to collaborate in order to remain at the forefront of our patients' best interests."