Striving to educate and foster a passion for plastic surgery in others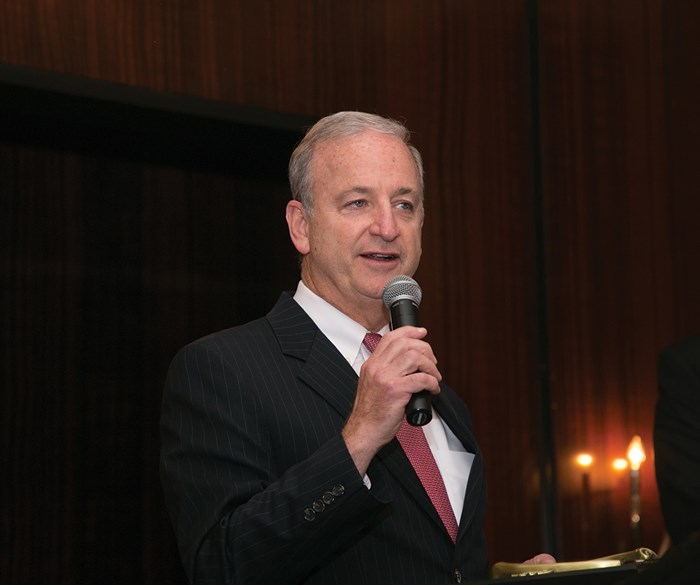 Michael Bentz, MD, Madison, Wis., cannot recall a time when he wanted to be anything but a doctor. With a father who was a physician and a mother who was a nurse, he had an early introduction to medicine and that exposure showed him both the advantages and the challenges that came with being involved in a medical practice.
"I was one of those kids with a track to enter medicine," he remembers. "I liked science and I liked watching my parents as they interacted. My whole life was really geared toward this path."
Medical school at Temple University was followed by a residency in surgery at the school, then a fellowship in microvascular research at the University of Pittsburgh Medical Center and residency in plastic and reconstructive surgery at Pitt.
"I was headed to emergency medicine but by chance, I got to watch two plastic surgeons – Robert Davis, MD, and Richard Dabb, MD – in private practice do some cases and was immediately taken by it," he says. "I never looked back. I did a pediatric rotation and immediately was attracted to the problems around congenital deformities and differences."
Dr. Bentz's initial exposure to academic medicine was through his chair of surgery, Wallace Ritchie, MD, PhD. Dr. Bentz calls Dr. Ritchie "an extraordinary academic physician," who balanced his academic activities, clinical care and leadership – and he still had a strong family base. It was an impressive example to follow.
"As I rotated through both academic, university hospitals and private rotations, I was just more attracted to the responsibilities of an academic surgeon – including research, clinical care and opportunities in administration to improve systems," Dr. Bentz says. "I've been in academic medicine my whole career."
Now as professor of surgery, pediatrics and neurosurgery at University of Wisconsin School of Medicine and Public Health, and the Layton F. Rikkers, MD, Endowed Chair of Surgical Leadership, Dr. Bentz's practice focuses on plastic and reconstructive surgery for infants and children. He also maintains special interests in pediatric hand surgery; cleft lip and palate surgery; chest, abdominal wall, and extremity reconstruction; the treatment of birthmarks and vascular lesions; and he performs general reconstruction of the adult trunk, extremities and head and neck.
The road to Wisconsin
Born in Pittsburgh, Dr. Bentz spent much of his life in Pennsylvania and was thrilled to be working at the University of Pennsylvania alongside a key mentor and friend, J. William Futrell, MD.
"His example of academic plastic surgery and his focus on resident and medical student education, as well as his service through global surgery, is something I have tried to model my career after," Dr. Bentz says. "His are big shoes to fill and it's impossible to accomplish what he's accomplished, but it's given generations of Pitt residents something to aim for."
Although Dr. Bentz describes his situation at Pitt as "a near-perfect academic job" – running a successful, popular residency, doing clinical research and being close to family – Dr. Futrell recommended he closely look at the job in Wisconsin when the opportunity arose.
"He assured me he wasn't getting rid of me, but he thought the fit would be good," Dr. Bentz says. "I had no ties here, so moving here seemed like a stretch – and even when I was called about the position, I thought it was highly unlikely I would move to Madison."
Nevertheless, nearly two decades later, Dr. Bentz feels that he made the right decision in agreeing to the move.
"I was really impressed by the people and what the possibilities were, enough to take the risk of trading the sure thing in Pittsburgh to what might be possible," he says. "I've never regretted the move from either a professional point of view or a family point of view."
Building a legacy
ASPS in September awarded Dr. Bentz with the 2018 ASPS Honorary Citation Award. Although he says the honor means a great deal to him, he maintains that seeing those he teaches find success in plastic surgery remains his ultimate goal.
"Education has been my focus, and I consider myself first and foremost a resident and student educator," he says. "My biggest contribution has been in helping plastic surgery residents achieve the most that they can achieve. That's the largest impact I will have on this profession. My goal is to leave plastic surgery better in my local world than when I came."
An extension of that is the work Dr. Bentz has performed throughout the world, focusing on education and providing clinical care as an education vehicle.
"Helping local surgeons develop in their environment, no matter how challenging the circumstances are – particularly in developing countries – allows ongoing impact to their patients," he says.
Neil Salyapongse, MD, has known Dr. Bentz since 1995, having worked with him at both the University of Pittsburgh and University of Wisconsin. He says he always strives to "be like Mike."
"Although my exact relationship with Dr. Bentz has changed over the years, one aspect of our interaction has remained constant: He has always been my mentor," he says.
They met when Dr. Salyapongse was a first-year resident at the University of Pittsburgh, training in general surgery but with an interest in pursuing a career in plastic surgery.
"Dr. Bentz recognized this and, over the ensuing years, he coached me – involving me in the didactic life of the Division of Plastic Surgery and advising me as I pursued research in wound healing," Dr. Salyapongse recalls. "One year, after I had been in private practice for a few years, he asked if I was happy. I replied that I enjoyed my job, loved my patients, but missed the teaching opportunities I had enjoyed in academia. His response? 'That's great. Come to Madison.'"
"In typical mentor fashion, he recognized an unfulfilled aspiration and need in my professional life and drew me back into the university world," Dr. Salyapongse adds.
Dr. Bentz's research interests focus primarily on outcomes in gynecologic oncology reconstruction and intra- and extra-thoracic reconstruction, as well as educational outcomes.
"It's around clinical outcomes and studying what we've done for patients, and where we can improve for the future and develop systems around that," he says. "Looking at ways to improve the educational process for students and residents, including transitioning our residency from a clinical training program to an academic training program and with a strong clinical emphasis at the same time."
Donald Mackay, MD, DDS, chief of plastic surgery, Penn State Health Milton S. Hershey Medical Center, has known Dr. Bentz for a long time, through years together working on the national stage, involved with the pediatric group, ABPS and Plastic Surgery RRC.
"He's a phenomenal leader and communicated very effectively," Dr. Mackay says. "When you look at what he's done for plastic surgery, he's done so much in all the arenas. Original research, exceptional technical ability – he's an important contributor to pediatric plastic surgery text and all he's done with education."
Away from work
Dr. Bentz met his wife, Kim, while an intern at Temple, but because he was so busy as a resident, he concedes it took him four years to ask her out. Nevertheless, today they have three children who are tightly linked and enjoy traveling together.
Dr. Bentz says the family is rooted in the Big Ten – in addition to working in Madison, Dr. Bentz is an Indiana undergrad; Kim is from Penn State; their daughter went to Michigan; and one son followed in his mom's footsteps as a Nittany Lion before finishing at Wisconsin, while the other son attends Wisconsin. Together, they attend many of the football and basketball games, and they've developed an affinity for the Green Bay Packers, though the kids still walk around in Philadelphia Eagles and Pittsburgh Steelers jerseys.
"I'm fortunate that they are still in Madison, and I'm tickled that for now, we're all within a couple of minutes of one another," Dr. Bentz says. "Coming to Wisconsin has not only been great professionally, but we've really enjoyed it on a personal level."
Educational pointers
As an educator, Dr. Bentz believes it's important to remain easygoing and approachable for his students.
"It's about developing people's thinking," Dr. Bentz notes. "We try not to teach operations, but principles. Operations go away but principles stand the test of time."
When meeting with aspiring plastic surgery medical students, Dr. Bentz says there are three messages he likes to impart: identify a passion; understand there's going to be Herculean requirements on time, energy and effort; and that, sometimes, the best way to succeed is to remain open to exploring a different route to achieving a dream.
"Every day I get up and look forward to the opportunity to solve problems with patients and meet people I wouldn't otherwise meet," Dr. Bentz says. "Linked with that clinical care is this educational opportunity I have to share my passion with residents and students, and help them develop it within themselves."