Years of collaboration, months of preparation boost ASPS at FDA hearings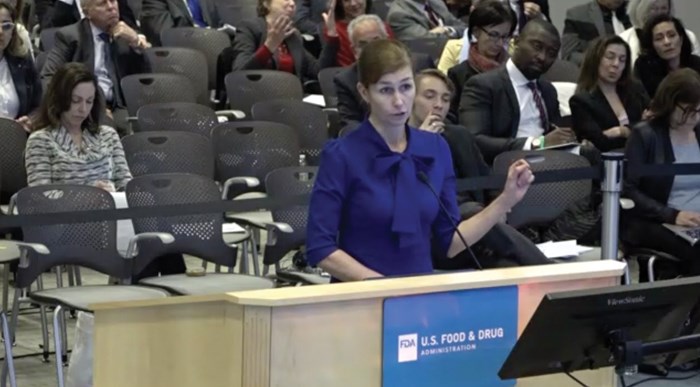 In both invited testimony and during open public comment periods, the FDA's General and Plastic Surgery Devices Panel on March 25-26 heard from dozens of plastic surgeons, including several ASPS members specifically invited by the FDA to share the Society's efforts to improve patient safety and education.
The hearing was held to discuss the benefits and risks of breast implants for both augmentation and reconstruction purposes, and it was prompted by recent coverage of patients being diagnosed with BIA-ALCL and reports of breast-implant illness and actions by other international regulatory authorities. In addition to plastic surgeons, the panel heard from breast-implant patients, patient advocates and manufacturers. The FDA will use the panel deliberations to help inform their ongoing goal of ensuring the safety of breast implants.
Invited by the FDA to discuss the importance of clinical data registries in ongoing device surveillance, The PSF President Andrea Pusic, MD, MHS, shared data on BIA-ALCL already gathered from the Society's PROFILE registry, which has collected 267 case reports of BIA-ALCL to date in the United States. She also discussed the National Breast Implant Registry (NBIR), which launched last October to serve as the centralized infrastructure for collecting information on all breast implant devices placed by surgeons in the United States. The NBIR is a pivotal piece of the FDA's strategy for monitoring the long-term and ongoing performance of all breast implants. All plastic surgeons should participate in the NBIR to ensure the right data is collected to inform current and future regulatory decisions regarding the safety of breast implants. The NBIR is a collaboration with the FDA, breast-implant manufacturers and other stakeholders that include surgeons, patient advocates and epidemiologists.
"The NBIR will provide real-world data that can be used to track how patients respond to their implants and how the implants perform over time," Dr. Pusic told the panel. "This design also supports the possibility of embedding post-approval studies within the NBIR to collect real-world evidence facilitating the safe introduction of innovative implants into the United States."
Reflecting on the hearing, ASPS President Alan Matarasso, MD, says he was pleased with ASPS members' showing in Maryland to speak on behalf of patient safety. He says that for decades, ASPS and The PSF have worked to ensure that proper research is conducted and that regulatory decisions are made using the best available evidence, and that message was conveyed at the hearing.
"The Society's approach and response to the hearings was deliberate and strategized to have maximum impact," he says. "Our staff and speakers worked diligently for months gathering all necessary information for this hearing in order to respond to the FDA and to patients' concerns. Our presentations before the panel directly addressed these issues.
"ASPS remains in regular contact with the FDA," he adds. "Through that relationship and our collaboration on PROFILE and the NBIR – which has been years in the making – the agency acknowledges its collaboration with the Society as an important, authoritative means of tracking breast implants for surgeons throughout the country."
Back and forth
The two days included emotional stories from patients and advocates speaking on behalf of patients who had been diagnosed with BIA-ALCL or stricken with a variety of symptoms seemly tied to their implants. Although several patients argued that their plastic surgeons had not made them aware of the risks associated with receiving breast implants – or that the documents were too lengthy to appropriately absorb – ASPS member Lynn Jeffers, MD, made note of the Society's standardized consent forms and its focus on patient safety.
"Informed consent cannot just be a piece of paper," she told the panel. "It's only successful if the patient understands it on their own terms."
ASPS member Michele Manahan, MD, Baltimore, also told the panel that informed consent has to be a discussion.
"I spend a lot of time not just speaking, but listening to the questions my patients have for me and interpreting their concerns," she said. "I start with the most important and likely scenarios, and maintain a dialogue with them to move toward complete understanding. We address questions like, 'Are implants safe?' 'Will I get cancer?' 'Will I need more surgery?' 'What will I look like?' 'What implant should I choose?' 'What if I change my mind?' I ask questions like, 'What are your goals?' 'What led you to clinic today?' 'What are you looking for in the future?'"
On behalf of ASPS/PSF, Dr. Jeffers also spoke as part of the FDA's formal agenda, discussing both the robust, current and future research and registry work in which the Society and Foundation are engaged to ensure patient safety and quality care. Dr. Jeffers discussed the Society's efforts and commitment to fully educate and engage patients and surgeons in the understanding of evolving trends influencing the benefits and risks of breast procedures. The FDA panel emphasized the need for patients, surgeons and the agency to work together to enhance communication and understanding about breast implants.
To that end, the Society's commitment to patient safety remains steadfast.
"We hear the concerns of our patients," Dr. Matarasso says. "We've formulated a task force that's actively studying these concerns and any associations these implants might have with illness."
Initial recommendations
In addition to BIA-ALCL, breast-implant illness, informed consent and the NBIR, the panel also focused on the topic of MRI screening for silent rupture of silicone gel-filled implants. The panel ultimately made recommendations on MRI screening, suggesting removal of the agency's current MRI screening recommendations, to instead adopt recommendations that screening begin between five and six years after surgery, and then every two-to-three years after that.
Additionally, alternatives to MRI were discussed, with the panel recommending ultrasound as an acceptable method for screening asymptomatic patients. For symptomatic patients and patients who have equivocal ultrasound results, the panel recommended MRI for detection of ruptures. The panel also agreed the informed-consent process should be improved to better-inform patients about the risks posed by breast implants, and that this effort should be shared with all parties – including the specialty, the FDA, surgeons themselves, professional societies and patient advocacy groups.
It's important to note that although the panel put forth these recommendations, they have not formally been adopted by the FDA or issued as official directives to plastic surgeons.
Dr. Matarasso says ASPS will continue its communication and engagement with the FDA on any further recommendations that develop in the coming weeks and months. He notes that his career has been bookended by large-scale public concerns about the safety of breast implants, although he points out there are four factors that differentiate the present concerns from those that arose in 1992.
"First, we have BIA-ALCL now," he says. "That's a big change. The second thing we have now is social media, which can spread information – right or wrong – in a way never imagined before. Third, we're dealing with the continuing commoditization of plastic surgery and the fact that many patients are looking for the best price, or what they see advertised on social media, or in an ad on the subway or in a magazine. Patients increasingly aren't necessarily even looking an ASPS board-certified plastic surgeon, or even a well-trained general plastic surgeon. They often want somebody who offers the best price.
"However, the fourth thing we have now that we didn't have 27 years ago is a registry," he adds. "We have a way of tracking these devices and getting real data. That's an incredible asset, and it's critical to the welfare of our patients."
Dr. Pusic agrees and says The PSF is continually working to increase the ease and efficiency with which surgeons can use the NBIR. As of July 1, device-tracking data collected in the NBIR will be able to be sent to the manufacturers in accordance with federal requirements. This should increase registry participation among surgeons and improve the quality of device-tracking data submitted.
She also told the panel that the Foundation appreciates the importance of the patients' voice and has worked hard to advance the science and research of patient-reported outcome measures (PROMs).
"Through this research, we've been able to quantify some of the important benefits that breast implants can provide in terms of quality of life and body image, whether this be for breast cancer patients or women seeking augmentation," she told the FDA panel. "We've also been able to better appreciate adverse effects, such as how capsular contracture can cause pain and decreased physical function.
"When we built the NBIR, it was always with a view to incorporate patient-reported symptoms and outcome assessment into the registry," she continued. "We know that reoperation or device removal is a relatively late indicator of a problem. Also, in the context of cosmetic breast augmentation, we know that women may suffer with a problem for years but not seek medical attention because of the costs involved. Using a national registry to evaluate, benchmark and monitor symptoms among women with breast implants would be a very powerful way to investigate some of the concerns that are being raised today."
Dr. Matarasso says the Society appreciates the effort members made to attend the hearing.
"We're tremendously grateful to our members, the patients, the manufacturers, the panel and the FDA for formulating the structure and content of the meeting, allowing all stakeholders to interact in a forum that benefitted everyone."
The agenda and background materials from the March hearing can be accessed directly from the FDA website at fda.gov.
ASPS provides a host of information on breast-implant safety and BIA-ALCL, including facts, statistics, informed-consent language, insurance coverage information and a list of frequently asked questions for both doctors and patients at PlasticSurgery.org/ALCL.
All ASPS members should begin participating in NBIR and can register at ThePSF.org/NBIR. Additionally, the FDA recommends that any suspected or confirmed cases of BIA-ALCL be reported to the PROFILE registry at ThePSF.org/PROFILE; to the FDA's Manufacturers and User Facility Device Experience (MAUDE) database; and to the device manufacturer.