Award highlights the educational importance of "The Innovators"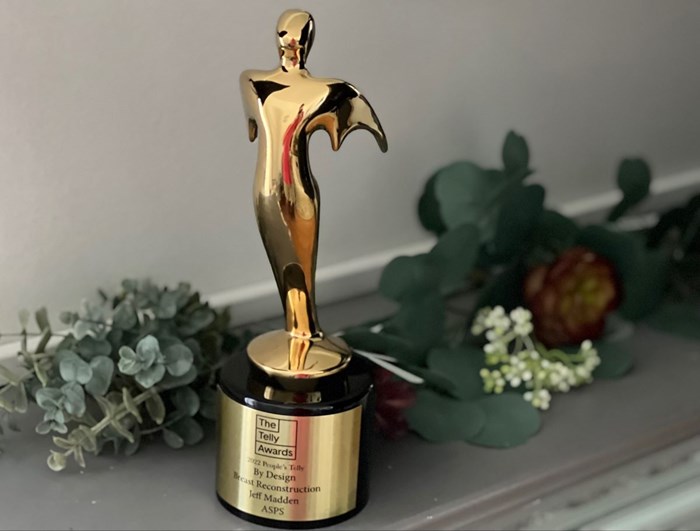 The ASPS web series "The Innovators" was designed to provide viewers a real look at plastic surgery – that is, a view of the specialty markedly different than what most of the public sees through "reality" TV programming. Viewers are taking notice.
"By Design: Breast Reconstruction," an episode of "The Innovators" series, earned Jeff Madden, the Society's staff media producer, and ASPS its first-ever Telly Award earlier this year. The national Telly Awards honor excellence in video across all screens.
"The Innovators" series launched in 2018 as a Plastic Surgery Education Campaign-driven set of videos focused on reconstructive surgery and the lasting effects that plastic surgeons can have on their patients. The award-winning feature was the result of video shoots in multiple cities – including during New York Fashion Week – that involved breast cancer survivors telling their stories while their doctors shared insights on their patients and procedures.
Key to the "By Design" piece is Dana Donofree, a breast cancer patient whose journey inspired her to launch her own fashion design company, AnaOno, which makes lingerie and loungewear specifically for women who have undergone breast reconstruction, breast surgery, mastectomy or other conditions that cause pain or discomfort. The company's tagline is: "You are never alone."
Donofree's plastic surgeon, ASPS member R. Brannon Claytor, MD, was not only an early supporter of his patient's business venture, but he also provides context to the episode of "The Innovators" with an inside look at the breast reconstruction process, thanks to the support and participation of Main Line Health and the Bryn Mawr Hospital Breast Cancer Tumor Board in Philadelphia.
The video lays out by subspecialty the various physicians who should be included in a patient's care team and provides background on the 1998 passage of the Women's Health and Cancer Reconstruction Act, which requires that breast reconstruction be covered by insurers after a woman receives a breast cancer diagnosis. The passage of the legislation is often viewed as a watershed moment in ensuring the delivery of breast reconstruction after mastectomy or lumpectomy – but in the 24 years since, Dr. Claytor notes that educational efforts to make sure women understand all their options are still underway.
Moreover, it can be hard for women to process so much information so quickly after their lives have been turned upside-down by a breast-cancer diagnosis. "There's no question that patients are simply going about their lives, and then they're suddenly thrust into a situation where information is coming rapidly and in pieces – this test, followed by this information tomorrow, then this test, then this information the next day," he says. "People think they know breast cancer, but they don't know the options for breast reconstruction. The key to making sure that patients have all the options is to make sure they see a plastic surgeon early in the process."
That's another reason why efforts such as "The Innovators" series matter: Public recognition of these efforts further entrenches its importance on an educational front, Dr. Claytor says. The more information a patient can process ahead of time, the better informed their decision can ultimately be.
"Patients have an enormous resource by way of the internet," he says. "The educational resources are there. However, once they begin to dig-in to everything that's available, patients may feel it's all too onerous or complicated. The person they eventually see may tell them one thing, and then they hear another. And there are some scenarios that require relatively expeditious intervention – but in rushing to one decision, you may not have opportunity for another kind of intervention/option."
Dr. Claytor says innovation in breast reconstruction is happening quickly, and the methods used today are different than they were 10 years ago – and could evolve further in just another five years. He says he's proud not only to have been a part of a nationally recognized video feature, but also to be part of a specialty that continually moves the needle in patient care while being both challenging and rewarding.
"I started as a commercial airline pilot and pivoted to plastic surgery largely because I realized that I take all the policies and procedures very seriously and I'm a good checklist person," he notes. "I liked the ability to expand and innovate – and plastic surgery is an absolutely perfect fit for me. It allows me to challenge myself and challenge my patients to receive results that were previously unimaginable. To participate in this award-winning feature is rewarding and humbling."
"By Design" and other videos in "The Innovators" series can be viewed at PlasticSurgery.org/Innovators.