Remembering a pillar of plastic surgery, David Furnas, MD, 1931-2022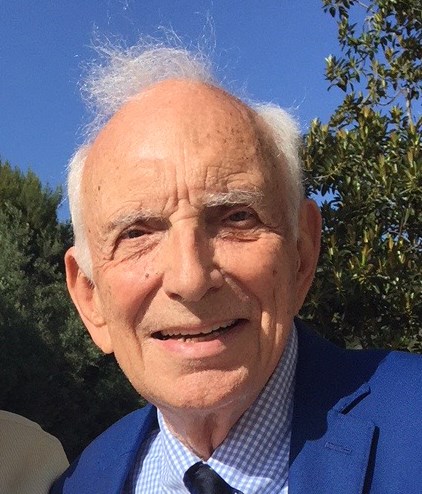 David Furnas, MD, was a giant of plastic surgery who pioneered new frontiers and left a lasting impact on the specialty. He passed away peacefully on Aug. 15 at his home in Orange County, Calif., at the age of 91.
A year ago, while perusing the Department of Plastic Surgery's old library at the University of California-Irvine (UCI), our team landed upon postcard communications, photographs and a paper cut of the famous Z-plasty nestled in the Russian textbook gifted to Dr. Furnas by Alexander Limberg, MD. These treasures transported us back to foundational times in our profession and gave us a glimpse of the passion and drive Dr. Furnas had to improve our specialty. Naturally, as residents at UCI, the program Dr. Furnas founded, we felt the need to dive deeper and capture the essence of this legendary figure. Months prior to his passing, we met and interviewed Dr. Furnas alongside his wife, Mary Lou, and daughter, ASPS member Heather Furnas, MD. A video of this interview is available to view on this page.
His stories, intellect, wit and humor left a lasting impression on all of us, and we strive to continue his legacy of being "honest, hard-working and very promising" trainees.
Dr. Furnas was born in Caldwell, Idaho, in 1931 to John and Esther Furnas. From a young age, he developed an eclectic skillset – from building model airplanes to working with hand tools. He enjoyed the challenge, appreciated the finesse and dexterity and embraced the gratification from completing tasks with his own hands. This background forged the basis for a future decision to pursue plastic surgery.
An example to others
Dr. Furnas's drive to achieve and better himself fueled his desire to pursue medicine. He candidly noted that medicine was the next natural step and that he "did everything that was required to get there." Dr. Furnas received his Doctorate of Medicine in 1955 and a Master of Science in Toxicology and Pharmacology in 1957 from the University of California-San Francisco (UCSF). In 1956, he became an assistant resident in surgery at hospitals affiliated with UCSF. In 1959, Furnas completed one year of psychiatric training at the Langley Porter Neuropsychiatric Institute at UCSF. This decision was largely influenced by his father, a Presbyterian minister, who often held counseling sessions for the congregation in a local church when Dr. Furnas was young. Dr. Furnas made the switch to plastic surgery after he realized that he could accomplish much more with surgery than psychiatry. He went on to complete a fellowship in plastic surgery at New York Presbyterian/Weill Cornell Medical Center from 1961-1963.
While at UCSF, Dr. Furnas met Mary Lou, a dietetic intern at the time. She would later also become a surgical technician and travel abroad with her husband on medical trips to Kenya, Tanzania, Uganda and the Philippines. Dr. Heather Furnas fondly remembers joining her parents and the "Flying Doctors" on these trips, which she attributes to fortifying her own appreciation for the specialty.
"I wanted to do what you did," she said to her father.
Dr. Furnas was in his element in Kenya, working in O.R.s that had dirt floors and lights that ran on Land Rover batteries.
"His adventures extended beyond technical challenges," Dr. Heather Furnas says. "When his Flying Doctor plane landed at Entebbe Airport in Kampala, Uganda, Idi Amin's soldiers surrounded the Cessna and pointed their AK47 rifles directly at them. Their daytrip became a forced overnight stay, but they survived. Months later, as the team was landing on a dirt airstrip, a dozen Tanzanian irregulars fired their AK47s. Among the six bullets that hit the plane, one barely cleared the fuel, and another compressed the fuel line to half its diameter. One millimeter lower, and the plane would have exploded. After that day, each day that I had my father was a gift. I was just 15."
From 1964 to 1968, Dr. Furnas continued his journey at the University of Iowa, beginning as an associate in surgery and eventually becoming an associate professor. During his career, he made invaluable contributions to plastic surgery, elucidating the biomechanics and mathematics behind Z-plasties and its adaptations to solve multi-plane problems, termed the "tetrahedral Z-plasty."
Dr. Furnas also founded the technique "Correction of Prominent Ears by Concha-Mastoid Sutures," which he published in 1968. With this operation, excessive cupping of the concha leading to ear prominence could be corrected with non-absorbable sutures that penetrate the entirety of the auricular cartilage and mastoid periosteum. This innovation was minimally invasive and achieved permanent retraction of the auricle without cartilage excision. When asked about his technique, Dr. Furnas remained humble.
"It was a very simple means of setting the ears back... with a few stitches," he remembered, before joking, "Joe Murray did the first kidney transplant and got the Nobel Prize – I never got the Nobel Prize."
Dr. Furnas was also a master of the face and the first to describe the retaining ligaments of the cheek and the importance of their release in achieving the desired facelift.5
Undeniable legacy
Dr. Furnas's legacy is survived by the UCI Department of Plastic Surgery, the program he formally founded in 1969. He served as chief of the Division of UCI Plastic Surgery, full professor of surgery and then emeritus professor in 2002. In 2002, he also received the AMA Service Award.
Dr. Furnas established our residency program and built the foundations necessary to excel in reconstructive surgery, microsurgery, burn care and clinical research. During the course of his 30-plus-year career at UCI, he trained more than 40 residents in plastic surgery. His rigorous expectations of residents and extensive interviews involved carving an ear from an Ivory soap bar and ensured that UCI graduates were "honest, hardworking and very promising."
Dr. Furnas encouraged and helped select a young Gregory R.D Evans, MD, as his successor. Dr. Evans, an ASPS past president and another legend in plastic surgery, made UCI the first and only Department of Plastic Surgery in the UC system under the mentorship of Dr. Furnas. "On a personal level, Dr. Furnas was kind, inquisitive, generous, giving of his time to the program he founded and always interested in patient safety and resident education," Dr. Evans recalls. "His operations may have lasted hours – and some even 24 hours – but his will to teach and demonstrate his technical ability never ceased during this operative time. His passion for answering questions that were unsolved and his commitment to the program will be everlasting.
"David set a leadership style of commitment, involvement, sacrificing personal goals for the common good and continuing to lead in the international realm of plastic surgery," Dr. Evans continues. "He was always available for support, answering questions and demonstrating ideas in the early part of my career at UCI. He will be missed and the department will forever be in his debt for what he founded, created and expanded."
Dr. Heather Furnas says a key to her father's success with orthopedic cases he performed in Africa was the Campbell's textbook he used in the O.R., opened to the appropriate page.
"James Wethe, MD, and other former residents recall that my father continued this practice in the States, flipping through a sterilized copy of Grant's Atlas of Anatomy during surgery when he wanted to check an obscure detail," she notes. "His humility, kindness and gentleness encouraged me to follow in his footsteps just as much as the work that he did with his hands."
The lasting contributions of Dr. Furnas demonstrate the value of creativity, hard work and passion for one's calling. His legacy is built upon his profound foresight to establish and create the architecture necessary for future generations to improve upon. He is survived by his wife Mary Lou, daughter Heather and sons Brent and Craig.