Remembering a pillar of plastic surgery, David Furnas, MD, 1931-2022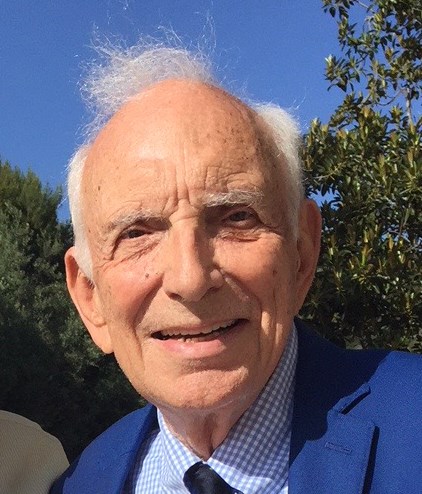 Plastic surgeons are paying tribute to David Furnas, MD, who passed away Aug. 15. He was 91.
"Dr. Furnas was a phenomenal individual," says ASPS past President Gregory R.D. Evans, MD, who succeeded Dr. Furnas as the chair of the Department of Plastic Surgery at University of California, Irvine (UCI). "He was so kind and so generous with his time and insight. He was always willing to help me and, honestly, the kind of guy who would give you the shirt off his back if he thought it would help you in any way."
Born in Caldwell, Idaho, in 1931, Dr. Furnas once said that his grandfather first taught him how to use hand tools. As he honed those talents, it steered him toward a career in medicine as a plastic surgeon. He earned his medical degree from the University of California-San Francisco in 1955, beginning an internship at the University of California Hospital under H. Glenn Bell, MD.
During his residency, he spent time in San Francisco, Holloman Air Force Base in New Mexico and New York. During a fellowship year in Scotland, Jack Mustardé taught him to use sutures to bend cartilage. Soon after accepting his first academic position at the University of Iowa, a physician brought in his two sons with prominent ears. Dr. Furnas explained his idea for a new otoplasty technique: a conchomastoid suture. The father and both sons were game, and they loved the result.
In 1969, he moved west to California to become associate professor of surgery and chief of the Division of Plastic Surgery at UCI, a position he would hold for the next 30 years, while authoring and editing several journal articles, textbook chapters and textbooks. He was a reviewer for PRS, and a member of the editorial boards for the Journal of Hand Surgery, Annals of Plastic Surgery and the Journal of Craniofacial Surgery.
Dr. Furnas served as president of the American Association of Plastic Surgeons in 1995, and his work and travel overseas earned him fellowship and membership in several international plastic surgery organizations. In 1987, he received the Senior Research Award from The PSF.
Dr. Furnas and his wife, Mary Lou, a dietician and surgical technician, traveled to O.R.s around the world – including the Philippines, Kenya, Nicaragua and Sri Lanka – to teach surgeons how to perform craniofacial and congenital hand procedures and to treat complex wounds.
Dr. Furnas's daughter, ASPS member Heather Furnas, MD, once noted that being able to watch her father in action in bush hospitals in remote areas of Kenya – treating congenital deformities, burns, hyena bites and tumors – solidified her own desire to become a plastic surgeon.
"I am beyond grateful to have had my dad as long as I did," she wrote in a Facebook post after her father's passing. "In Kenya as an East African Flying Doctor operating in bush hospitals, he opened up a world for me. I will miss his laughter, but I can still hear it in my head."
One of Dr. Furnas's patients, Barbara Kammerer Quayle, who sustained severe burns and facial trauma in a 1977 car crash, was named a Patient of Courage by ASPS in 2017. Dr. Furnas, who helped treat Barbara and rebuild her face, nominated her. Barbara would end up becoming a lifelong friend of the Furnas family.
"He was a real partner and I will always be so grateful that God brought us together," Barbara said of Dr. Furnas when she received the award.
In addition to becoming a professor emeritus at UCI, the university also established a lectureship in his name – the first person to deliver the Furnas Lecture was Frederick J. Menick, MD.
"That was a very special moment to see and experience," Dr. Evans notes, adding that his commitment to the program – and its students – remained strong even after Dr. Furnas retired. "His leadership style was one of commitment, involvement and sacrificing his personal goals for common good. I learned a lot from him. After he retired, he donated all his books to our library. He really was the 'grandfather' of the group and the residents enjoyed listening to him and learning from him. We've lost one the upstanding pillars of plastic surgery – but his legacy lives on."