Lab opens doors to anatomical education, global collaboration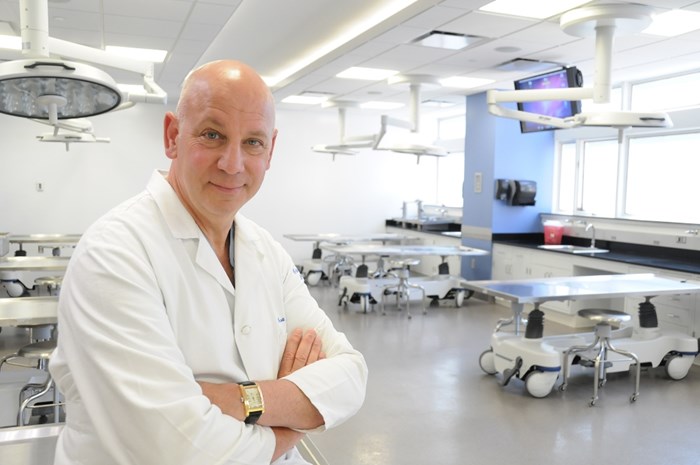 For many years, L. Scott Levin, MD, Philadelphia, says he saw the Human Tissue Laboratory – which he first built at Duke University in 1995 and then built at the University of Pennsylvania in 2011 – as the ultimate training tool for microsurgery Fellows, hand Fellows and plastic surgery residents. The ability to learn anatomy and acquire surgical proficiency, he says, is best honed through using fresh cadaveric material.
Now, he says, his lab offers more than top-notch training. It also offers the roadmap as plastic surgeons look to expand the possibilities in transplants for face, hand, penis, uterus, abdominal wall and beyond.
"Even before the lab opened here at Penn, our team was using cadaver facilities for hand transplant surgical rehearsal," says Dr. Levin, who is board certified in both orthopaedic surgery and plastic surgery, president of the American Society for Surgery of the Hand, chair of the Department of Orthopaedic Surgery and professor of surgery in the Division of Plastic Surgery at Penn Medicine. "The need and utilization of cadaver labs will only increase exponentially as vascularized composite allotransplantation (VCA) evolves. VCA is not the same as a replant. It's not the same as a phallic reconstruction. It's not the same as a LeFort osteotomy.
"There are many steps involved in face and hand transplant that require not only intimate knowledge of anatomy, but orchestration of the surgical steps involved in the procedure," he adds. "We have our whole team assembled during rehearsals and we go through the procedure, the procurement, the dissection of donor and recipient, and we simulate the transplant."
Although Dr. Levin's first human tissue lab opened its doors in the mid-1990s, he says the origins of the idea can be traced back to his hand fellowship in 1988 at the University of Louisville Kleinert Kutz Clinic and the experience he had with Robert Acland, MBBS, who started a cadaver lab in the anatomy department.
"He created an entire empire in anatomy, shifting his career from practicing microsurgery and plastic surgery to working full-time as an anatomist," Dr. Levin recalls. "He was a phenomenal influence on me and developed a lot of tools that we still use today. It engendered in me a passion for being in the cadaver lab."
That passion took flight when Dr. Levin became a faculty member at Duke. What started as a one-room, morgue-adjacent space in the basement of the since-demolished Bell Building eventually grew to the 1,800-square-foot Duke Human Tissue Lab in the Davidson Building. The lab launched the Duke Fresh Cadaver Flap Dissection Course, which still takes place today and is another program that Dr. Levin took to Penn when he made the move in 2009.
"I told the dean at the time, Arthur Rubenstien, MBBS, that I wasn't going to move unless I could build the cadaver lab," Dr. Levin recalls. "I got to campus, and there was no lab and no space. We had to build it from scratch, which took two years – to find the space, design the lab, organize it and hire the personnel. But we have not looked back."
The resulting weekend flap dissection courses over the past 20 years have trained almost 800 people from around the world, which he says pairs students with senior international faculty to not only learn how to do a flap dissection, but to be able to perform one themselves by the end of the course.
Part of the reason he continues to put these courses forward, he says, is the fact that more medical schools are not teaching gross anatomy.
"The question continues to evolve – as surgeons, where do we learn our anatomy?" Dr. Levin asks. "You can have all the simulations, models, virtual-reality presentations you want. Nothing substitutes for real dissection – particularly on fresh cadaveric material, which is the gold standard. You can have lightly embalmed cadavers that have a pretty realistic feel to them, but the best way and what we do for our Penn flap course is to inject specimens with latex so that you can see and differentiate the arterial system – which is imperative for finding pedicles and vascular supplies of tissue."
Dr. Levin counts his colleagues Eduardo Rodriguez, MD, DDS, New York; Samir Mardini, MD, Rochester, Minn.; Bohdan Pomahac, MD, Boston; and Laurent Lantieri, MD, Paris, as fellow "anatomy aficionados" who are helping push vascularized composite allotransplantation forward not only in the United States, but throughout the world.
Breaking down silos
Key to the advancement of transplant technique and technology, however, is to do away with the ego, personalities and general competition that have kept plastic surgeons from collaborating with other specialties in recent years. As someone who is double-boarded, Dr. Levin has a unique perspective on collaboration, but he also says the only way for hand surgery – and many areas of plastic surgery at large – to advance is to jettison the "me first" attitude.
"Areas like hand surgery are the perfect forum for multidisciplinary participation," he says. "Neurosurgeons, plastic surgeons, orthopaedic surgeons and general surgeons – we all bring something to the table. Cross-training and working with other disciplines enhances the surgeon. The days of silos, competition and isolation is no longer acceptable. It's actually harmful to patients."
Dr. Levin weighed-in on the April/May PSN cover story ("Disappearing act?") on procedures that plastic surgeons are at risk of losing to other specialties. Rather than "take them back," he argues the only way to truly lose them is to not share knowledge with specialties that others might perceive as competitors.
"The specialty of plastic surgery is at risk in hand surgery – particularly if we don't demonstrate our expertise in specific areas and if we don't master techniques and procedures that are part of hand surgery," he says. "Fracture fixation, wrist arthroscopy – there's no reason why we shouldn't be doing that as plastic surgeons if we're trained."
That's why he says his human tissue lab will be a gathering place for multidisciplinary teams to work together, advance the medical field at large and improve patient outcomes. Instead of narrow focus, he advocates for the "Orthoplastic Approach" – principles and practices of both specialties applied to clinical problems simultaneously. The message is resonating – the first Orthoplastic International Conference is set to take place in Florence, Italy, this month.
"The hallmark of an anatomy-based education is that I'm still learning," Dr. Levin says. "I've been practicing surgery almost 30 years. I've done countless free flaps. Nothing excites me more than to do a dissection, identify the pedicle, visualize the anatomy and show someone else how to do it. I've been part of workshops all over the world – Italy, Mexico, Singapore – and I always learn. That's the beauty of this intellectual and academic exchange – particularly with regards to plastic surgery, which is so anatomically based. It's very unique."