Remembering ASPS past President H. William Porterfield, MD, 1929-2023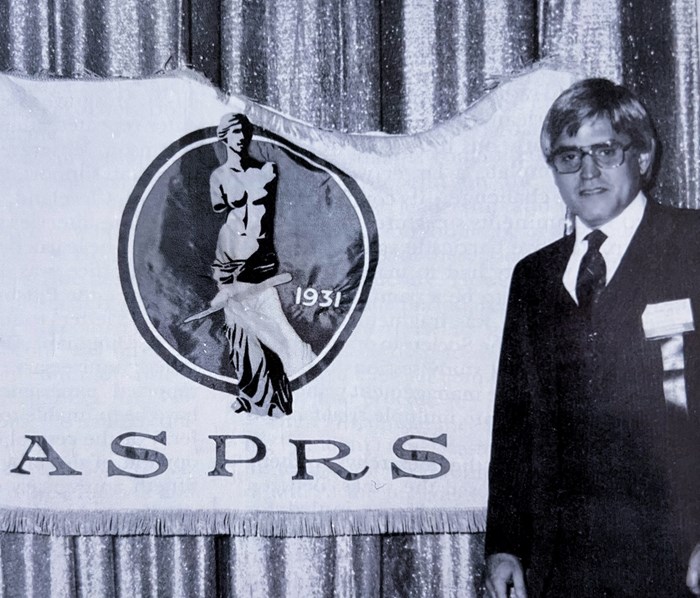 ASPS past President H. William "Bill" Porterfield Jr., MD, passed away Feb. 27 in Charlottesville, Va., at age 93. During his 1982 presidency, Dr. Porterfield led the Society through a period of stability while bringing significant change to the organization with a more business-minded approach – and spearheading the effort that led to the widely recognized and respected "Symbol of Excellence."
An only child, Dr. Porterfield was born in Hagerstown, Md., in 1929 to a physician father and a touring theater-performer mother who serendipitously met when she sought treatment for a twisted ankle. Dr. Porterfield attended the University of Virginia – he finished in three years – and earned his medical degree from Jefferson Medical College in Philadelphia. He completed an internship and general surgery training at Akron City Hospital, Ohio, and plastic surgery training at the Indiana University Medical Center, Indianapolis.
After moving his burgeoning family to Columbus, Ohio, Dr. Porterfield co-founded Ohio Plastic Surgeons Inc., and became associate clinical professor of plastic surgery at The Ohio State University, as well as director of the plastic surgery joint residency program at Ohio State and Mount Carmel Medical Center. During his time there, he developed new techniques for cleft lip and palate surgery, as he held a special desire to mend facial deformities in the pediatric population.
Dr. Porterfield served on the Columbus Speech and Hearing Board of Directors; as president of the Columbus Academy of Medicine; and as delegate to the AMA. He also served as chair of the American Managed Care and Review Organization, based in Washington, D.C., and co-founded a physician-run, managed-care company that became Physicians Health Plan, for which he eventually served as president and CEO.
He and his wife, Linda, endowed a Speech and Hearing Fellowship at Linda's alma mater, the University of Illinois, as well as a Professorship in Biomedical Ethics at the University of Virginia.
Dr. Porterfield steered the Society through a period of stability, but his presidency wasn't without controversy – although, in retrospect, many of his colleagues said his leadership decisions proved invaluable. As plastic surgeons began marketing themselves in new ways in the early 1980s – following an FTC decision that opened the doors to allow doctors more leeway in advertising – Dr. Porterfield spurred changes to the Society's Code of Ethics in order to institutionalize advertising for plastic surgery. He brought Roger Blackwell, PhD, a well-known healthcare marketing expert from The Ohio State University, to speak to the Society's Board of Directors and make recommendations on how to better market the organization to the public at large.
In the 1994 anthology History of the American Society of Plastic and Reconstructive Surgeons Inc.: 1931-1994, Dr. Porterfield notes that most of Dr. Blackwell's recommendations for the Society were in place within the next 10 years, but he conceded his decision to shift the Society's focus to business and marketing met its fair share of resistance.
"My concept was that the ASPRS should position itself properly in the public eye," Dr. Porterfield said in the book.
One of the most lasting changes to come out of this was the development of the Society's "Symbol of Excellence" logo – two semi-circles assembled as a non-touching ring that the anthology notes is supposed to signify "the circle of perfection that can never be achieved" – which represents ASPS to this day. Dr. Porterfield contracted with an artist in London to design the logo and the Society paid $12,000 for the logo ("I was shocked we got it so cheaply," Dr. Porterfield said in the book) – a price tag that would remain a sensitive issue for members for years to come.
Mark Gorney, MD, his successor as ASPRS president, said in History that he was the one who incurred the wrath that came with updating the Society's logo.
"Dr. Porterfield's administration selected it, but I got blamed for it," he recalled. "We ultimately spent $75,000 changing all our material to include this new logo."
The more business-centric approach to how the Society functioned also spurred Dr. Porterfield to propose a new committee consisting solely of young plastic surgeons (which evolved into the Young Plastic Surgeons Steering Committee) because, he surmised, they would be most directly affected by these new marketing trends.
The new focus on business and marketing also spawned the Society's Public Education Committee – and one of the committee's first tasks was assessing members a $650 fee to pay for a public information program that would be used to help position the Society in the public eye (and has since evolved into the Plastic Surgery Education Campaign). Although the shift in attention to business and merchandising garnered many critics in the ensuing years, Dr. Gorney said Dr. Porterfield's work – and its lasting effects – proved revolutionary.
"He brought us kicking and screaming into the 20th century," Dr. Gorney said. "He did a tremendous favor by turning us into a business organization."
ASPS President Gregory Greco, DO, says Dr. Porterfield's accomplishments during his presidential term cannot be understated.
"Between securing the logo and instigating the genesis of two committees that remain absolutely integral to the work that ASPS still does 41 years later, it's an impressive legacy," he says. "In addition to being an incredible surgeon, history has shown that he was a pioneering leader for our organization."
Dr. Porterfield's family said he loved and appreciated his time with them, that he never met a "stranger" and that he enjoyed exchanging jokes and stories over a scotch or two with friend both new and old. In his later years, when asked how he was doing, Dr. Porterfield would invariably answer: "Pretty good for an old guy!"
Dr. Porterfield is survived by his wife of 45 years, Linda; daughters Wendy and Marli; sons W. Scott, Jeffrey and Todd; 15 grandchildren; and seven great-grandchildren. Donations in his memory can be made in Dr. Porterfield's memory to Columbus Speech and Hearing (columbusspeech.org) and to the Alzheimer's Association (act.alz.org).