Ordinary people, extraordinary times: Pop culture's influence on plastic surgery diversity initiatives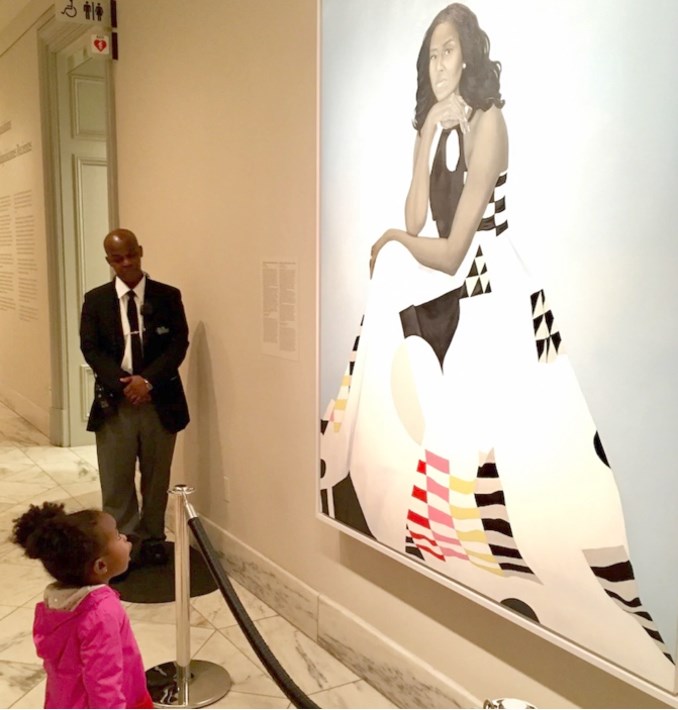 The story of building diversity and inclusion within plastic and reconstructive surgery can be told in two ways:
Via an Excel spreadsheet of graphs plotting the number of people of varying sex, race, age and religious affiliation showing trends across time; Or...
Via a collection of singular events spurred by ordinary citizens who've altered the course of history.
This article follows the second option, because statistics only tell half the truth.
The power of an image
Where were you on March 1, 2018? For Parker Curry, a 2-year-old girl visiting the National Portrait Gallery in Washington, D.C., this day proved pivotal. In a moment's flash, a photograph taken by North Carolina resident Ben Hines – an amateur photographer – propelled this toddler to international stardom and led her to the opportunity to dance in the White House. The unfolding of this extraordinary day is now retold in Parker's first book, Parker Looks Up, published when she was age 4, making her the youngest author on The New York Times Bestseller list.
More than a century ago, Oscar Wilde reflected that "life imitates art," a statement exemplified by the viral photo of a little girl transfixed and a testament to the power of representation. The sensationalist reaction to the image of Parker gazing at the larger-than-life-sized portrait of formally attired former First Lady Michelle Obama is a culmination of several major sociopolitical movements in the last decade. Lean In, Black Lives Matter, Women's March on Washington, MeToo and TIME'S UP are just a few examples of how historically marginalized groups have organized in response to pervasive social injustices. Not surprisingly, these campaigns are all spearheaded by women.
Millions of Americans – including four women – in March 2013 watched on TV the acquittal of George Zimmerman, who was on trial for the murder of Trayvon Martin, a 17-year-old Black youth. Alicia Garza, a 39-year-old activist, angered by the acquittal and fearing for the future of her own brother, posted on Twitter: "I continue to be surprised by how little Black lives matter..." Her friend and LGBTQ activist, 37-year-old Patrisse Cullors, honed-in on the last three words of Garza's post – Black lives matter – and wrote to Garza this ordinary question: "Black lives matter campaign, can we discuss?" An idea between two friends turned into the hashtag #BLM. With the help of 35-year-old Nigerian immigration activist Opal Tometi, #BLM became an international campaign to bring the hidden reality of racial violence to mainstream media.
The tragedy of and resulting public outcry surrounding Trayvon Martin's trial inspired April Reign, a Black attorney, to quit law and embrace social justice as a writer, activist and speaker. In 2014, Reign successfully halted a promotional boxing match between the acquitted George Zimmerman and rapper DMX after she launched the #StopTheFight campaign. One year later, Reign broadened her advocacy lens to focus on representation of people of color in film, with the hashtag "#OscarsSoWhite they asked to touch my hair" in response to the predominantly
white Oscar nominee list. Reign's criticism of the homogenous profile of Academy members – 92 percent male and 86 percent white – prompted the Academy to launch an unprecedented campaign to diversify its membership by 2020, which is now slightly more diverse (68 percent male, 84 percent white).
Women march into history
By 2017, the legacy of Trayvon Martin's death and the rising momentum of the Black Lives Matter movement emboldened women's voices and outreach nationwide across a diverse array of topics. A retired lawyer, Theresa Shook, created a Facebook page asking friends to protest the election of Donald Trump. Shook didn't know the women of the Los Angeles knitting group that created the famed "pink p---yhats," but together they inspired the largest, single-day protest in U.S. history: the Women's March on Washington.
While 7 million women marched for women's rights the day after President Trump's inauguration, females everywhere were chiming-in against sexual harassment in the simultaneously growing #MeToo movement. Inspired by the outpouring of women's experiences with discrimination, two attorneys – Tina Tchen, former chief of staff for Michelle Obama, and Roberta Kaplan, a LGBT Columbia law professor – co-founded the legal defense fund of TIME'S UP, a movement against sexual harassment that has effected lasting change. TIME'S UP is now challenging the status quo in politics, tech, healthcare and media, with more than 800 volunteer attorneys backed by the legal defense fund that's now worth more than $22 million.
TIME'S UP, PRS style
Two years after the photo of Parker Curry went viral, TIME'S UP came to plastic surgery in the form of an Instagram platform: TIME'S UP PRS, which was created by ASPS member Wendy Chen, MD, and launched March 2. TIME'S UP PRS shares intimate profiles of underrepresented plastic surgeons of diverse backgrounds, and the hardships encountered and overcome by marginalized individuals, with the goal of creating an equitable work environment for plastic surgeons of all backgrounds, free from discrimination and harassment. In the midst of a global COVID-19 lockdown, TIME'S UP PRS is forging a virtual community of surgeon activists, role models, allies, trainees, students and mentees – one unique story at a time.
One of the early posts on TIME'S UP PRS are excerpts from an interview series I co-produced with Allergan, "LIMITLESS: Inspiring Stories for Future Leaders in Plastic Surgery." Curious about the history of women plastic surgeons, I created LIMITLESS to collect of oral histories of female plastic surgeons who've served as presidents within national plastic surgery organizations. (To view "LIMITLESS," go to PlasticSurgery.org/WPS.)
I'm emboldened by the examples set by the women founders and grassroots activists. Despite struggling with the time and monetary restraints of a surgical resident, I've chosen to participate in the national dialogue. The idea to create LIMITLESS was solidified when I watched Alicia Garza lecture in Chicago, where she retold her journey of growing Black Lives Matter into a campaign. LIMITLESS took shape as I watched millions of women mobilize on the streets of Washington, D.C., fueling a momentum to act – until finally, LIMITLESS became a reality, perfectly coinciding with the debut of TIME'S UP PRS in conjunction with Women's History Month in March.
Although Dr. Chen and I have not yet met in person, our shared goals to promote diversity within plastic surgery have brought us together. When I'm distressed by the slow pace of progress or intimidated by the sheer effort required to make a noticeable change, I'm reminded of a few names: Alicia Garza, Opal Tometi, Patrisse Cullors, Teresa Shook, April Reign, Tina Tchen, Roberta Kaplan and Dr. Chen. These women have taken on an extraordinary mission.
Embrace their example – discuss, ask "what if?," share a photo, an idea or a phrase. Sometimes a seemingly ordinary act can lead to extraordinary results.
Dr. Zhong is PGY-5 in the Division of Plastic and Reconstructive Surgery at the University of North Carolina School of Medicine, Chapel Hill.