Plastic Surgery Perspectives: Plastic surgeon to be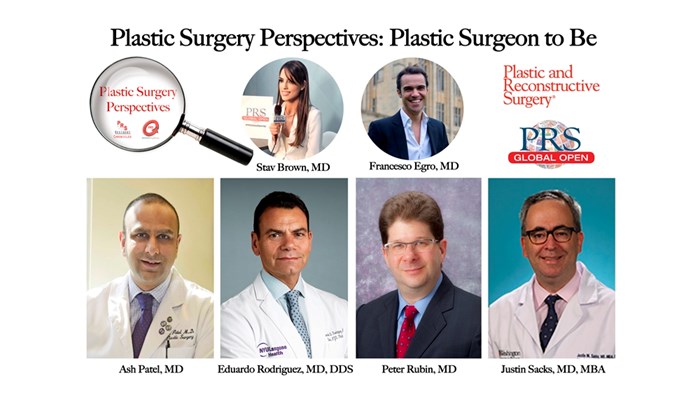 "Plastic Surgery Perspectives" is a recurring series of posts on the PRS Resident Chronicles blog led by medical student Stav Brown at the Sackler School of Medicine at Tel Aviv University, Israel. Since our blog is still on temporary hiatus, I didn't want this timely entry from Brown and Francesco Egro, MD, from the University of Pittsburgh (and a former PRS Resident Ambassador) to go unread. Please enjoy this roundtable interview in which Brown and Dr. Egro interview Eduardo Rodriguez, MD, DDS; J. Peter Rubin, MD, MBA; Justin Sacks, MD, MBA; and Ash Patel, MD, MBChB; on the effects of COVID-19 in the current match cycle.
Rod J. Rohrich, MD
Editor-in-Chief
Plastic and Reconstructive Surgery
Eduardo Rodriguez, MD, DDS, is chairman of the Hansjorg Wyss Department of Plastic Surgery at New York University (NYU) Langone Medical Center.
Peter Rubin, MD, MBA, is chair of the Department of Plastic Surgery at the University of Pittsburgh Medical Center (UPMC).
Justin Sacks, MD, MBA, is division chief of Plastic and Reconstructive Surgery at Washington University in St. Louis.
Ash Patel, MD, MBChB, is division chief of Plastic Surgery at Albany Medical Center, New York.
Who's the ideal candidate for a plastic surgery residency?
Dr. Rodriguez: The ideal candidate is ethically sound and academically superior, has a solid research background and understands the culture, strengths and challenges of our program – and is ready to embrace them.
Dr. Rubin: We're looking for self-starters and team players who have a natural sense of curiosity. Everyone who has made it this far in their medical careers has proven themselves to be intelligent. What really makes a difference in a successful plastic surgery career is having the initiative to continually explore every aspect of the complex problems that we encounter in plastic surgery and the rationale and execution of the solutions. That's the only way you can understand the relevant issues of each case and design individualized solutions. Moreover, we're dedicated to training leaders in plastic surgery at the University of Pittsburgh, and we're looking for people who are good communicators, enjoy working in a culture of collegiality and respect, and have a strong desire to contribute to our specialty.
Dr. Sacks: Many factors go into choosing a great plastic surgery resident. Some programs are academically inclined and some programs are clinically inclined. At Washington University (WashU) and Johns Hopkins, the programs are both clinically inclined and academically inclined, so we're looking for people who look to be future leaders in plastic surgery – the best at clinical, educational and research components. Successful applicants have to do really well in medical school, 3rd year clerkship grades are important – they show that you can handle the stress of being in a clinical rotation – and academically it's important to perform well on tests. Alpha Omega Alpha Honor Society (AOA) membership is looked at, as are USMLE scores, letters of recommendation and research papers (first/second author). Research can be clinical, translational or basic science, and it shows commitment and interest in the field. If you aim for these three things – clinical, educational and research excellence – your chorus starts to sing in a positive way.
Dr. Patel: There are many attributes that can contribute to someone being a successful plastic surgery resident and, in turn, a practicing plastic surgeon. I think it's very important for a resident to demonstrate high emotional intelligence and humanism. This combined with honesty, persistence and a strong work ethic, in my opinion, make for an outstanding plastic surgery resident.
How has the pandemic influenced the education curriculum in your division/department?
Dr. Rodriguez: With respect to didactics, they have been maintained either in person or virtually, and usually with a combination. Due to institutional mandates, we've had to curtail outside visitors, visiting professorships, etc.
Dr. Rubin: I believe we, like other plastic surgery programs, have been fortunate to have videoconferencing platforms that we can leverage for our regular conferences. The pandemic has really highlighted the evolving role of remote digital learning. Additionally, we've been very privileged to develop a "virtual" sub-internship that allows medical students from other universities to spend time with our residents and faculty in a structured program. This has been very well-received. Of course, we would rather have these bright students rotating with us on site and standing shoulder-to-shoulder in the O.R., but this still gives all of us a chance to interact and let students get a flavor for our residency program.
Dr. Sacks: I left Johns Hopkins after a decade and started at WashU in February. COVID-19 hit St. Louis in the middle of March. I was starting to integrate myself into the new division and I had to break down the way the division was working because we had to be in emergency mode. We had to make sure everyone had PPE and that the residents and faculty were safe. Just getting started in a new program and a new city where I didn't know people would have been hard enough, but confronting COVID-19 challenged me to move into this new administrative mode really quickly. Everyday, we had multiple Zoom meetings and also a lot of visiting lectures from different parts of the country and the world. We usually have journal clubs on Monday nights and an academic day on Wednesday, so that branched out to other days. We've been doing visiting lectureships and online educational seminars with other programs – which I think is great; that will stay in the future, as well.
Dr. Patel: The pandemic made us transition to a largely teleconference-based format. We were forced to postpone any visiting professors, as well as cadaver labs and simulated patient sessions. The change to a teleconference format has allowed us to invite grand rounds speakers from around the country to share their expertise with our residents.
Away rotations (or sub-internships) are a great opportunity for applicants to expand their plastic surgery education and skills, get a sense of programs' culture, showcase their ability at their desired residency programs and ultimately solicit letters of recommendation. What advice do you have for current applicants interested in matching into a plastic surgery residency program during the COVID-19 era?
Dr. Rodriguez: Sub-internships are a two-way street. The applicants get to know what we have to offer and they get a sense of the culture, the caseload, the teaching environments, the workload, etc. We get a sense of the applicant and, with crucial resident input, a sense of their potential "fit" with the program. Lack of in-person sub-internships will be a challenge. We've reached out to the non-NYU sub-internships previously selected and offered them mentorship at the resident and faculty level with identified members of our department. With respect to advice, the usual USMLE scores, grades, research and letters will be looked at closely. The difference this year is that the applicants will do best to reach out to programs of interest directly and through their home faculty advisors. Faculty who have graduated relatively recently and work at outside programs are also a great resource. The applicants need to inform themselves maximally about other programs – and when they narrow their choices, they likely should impart their interest to a limited number of select programs.
Dr. Rubin: The inability for students to do live, onsite away rotations definitely hampers their ability to get to know the programs and impedes the ability of the program to see how the students function in their system. As I mentioned above, this is an opportunity to make use of video-communication platforms so that students can interact with faculty and residents at other institutions.
Dr. Sacks: It's unfortunate that this year will be affected in a significant way. Some programs are doing virtual sub-internships, and that's program specific. WashU will be hosting a two-day symposium with faculty and residents to highlight the program. As for virtual interviews, I believe it levels the playing field for everybody. You can present your CV, LORs and board scores, and then we can have an interview with you to get a sense of who you are as a candidate. You can also apply to many programs, because it's very easy to do an online interview.
On a personal level, take a deep breath, be calm and present your true self – who you want to be, where you want to go and how you're going to get there. Have your story set in your mind – who you are, how you got to that seat and why you want to be a plastic surgeon. It might be too soon right after that you want to be a plastic surgeon who operates from head to toe, someone who does both reconstructive and aesthetic work, that's a great start. Make that connection with the interviewers, be ready to tell your story and tell people where you want to go and why the program you're interviewing at will help you get there. To learn more about a program, reach out to that program, and contact residents and graduates of the program. Also take advantage of your network – faculty members who know you from previous interactions and previous work together.
Dr. Patel: Aside from reviewing program websites and social media, try to find out more about programs by talking to recent alumni from your medical school who may have rotated at different programs. It's also worthwhile trying to contact residents at different programs to find out what attracted them to their program. I think that trying to find programs that resonate with you is very important, as every educational environment is different, and finding a program that has the best environment for you will allow you to be as successful as possible.
What's your advice for programs regarding applicants' selection during COVID-19, while aiming for an equitable, plausible residency-selection process?
Dr. Rodriguez: Programs need to be maximally active in terms of mentorship and guidance for their students. All things being equal, home students already have advantages at their programs. We aren't convinced this will change much. Also, it's the home students who will have much less exposure to other programs – and as a result they may be the driving force with respect to remaining at their institutions. We'll likely do more personalized due-diligence with faculty at the outside applicant's institutions.
Dr. Sacks: While many things will be different this year, clinical excellence, educational excellence and research excellence remain the most important components of a successful application. LORs from people who know applicants well are also critical.
Dr. Patel: This year is unprecedented and will force a huge departure from what we're accustomed to. I think it's important that every program be as prepared as possible and present as much helpful information as possible to applicants. Those of us who review applications will need to be as open-minded about each applicant as possible, as this year's applicants have not had the same opportunities as those from prior years.
What are the advantages of a virtual plastic surgery match cycle?
Dr. Rodriguez: That's unclear, but it's certainly a challenge – so in that respect, it will be a learning experience. Moreover, even when the pandemic is over, the switch to having virtual activities will have long-lasting impact; hybrid systems for didactics, interviews, meetings, etc. will likely persist. Having been there for the creation of these alternative methods of communication will be useful in an altered educational landscape.
Dr. Rubin: I'll answer questions four and five together. Most certainly, there are advantages of a virtual match cycle, in that candidates can apply to other necessary expenses the multiple thousands of dollars they would've spent on travel. If anything, a virtual match cycle levels the playing field even more, because candidates don't have the advantage of having done an away rotation add a program to which they have applied, and a limited travel budget won't prevent anyone from interviewing at a specific program.
Prior to COVID-19, most of us would be reluctant to make residency selections entirely by video interviews. However, this is the situation at hand, and I have no reason to believe that it will be less-equitable than the pre-pandemic process. In our program, we will still do the initial screening of applications and the selection of the cohort to be invited for interviews as we've done in the past. The interviews themselves will, of course, be by video conference. If anything, I would expect that residency programs will have a higher acceptance rate for their interview invitations, because the candidates don't have to travel.
Dr. Sacks: A virtual match cycle allows more qualified people to apply to many more programs – and for many programs to see many qualified people. It levels the playing field for many people. The interview process will be easier and more comfortable for applicants when they're at home, favoring people who are a little bit more nervous in an interview setting. Applicants won't have to make a decision necessarily on finances and time, and they'll have a great opportunity to have many programs look at them. Programs will have the opportunity to find candidates who might not have been seen because of other reasons and circumstances. Online interviews allow many people to be in many places quicker and easier, and information flows much faster. It makes it a more efficient marketplace for everyone – for both the "buyer" and the "seller." Information becomes much more transparent and free-flowing in an online system.
Dr. Patel: The cost and time constraints related to travel for interviews has been eliminated.
Stav Brown is a medical student at Sackler School of Medicine, Tel Aviv, Israel; Dr. Egro is the administrative chief resident in the Department of Plastic Surgery at the University of Pittsburgh Medical Center, Pittsburgh.