Remembering Melvin Spira, MD, DDS, 1925-2020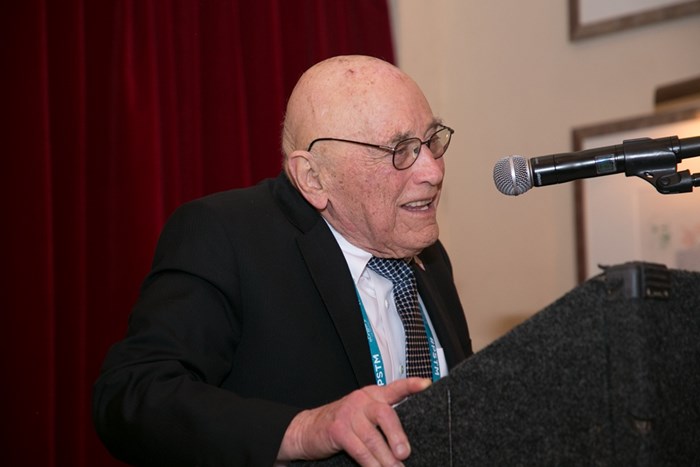 A giant in plastic surgery, Melvin Spira, MD, DDS, passed away Oct. 8 in California at age 95.
ASPS immediate-past President Alan Matarasso, MD, says Dr. Spira was what he admonished all his trainees and faculty to be: a lifetime contributor to the specialty.
"He was a busy clinical surgeon, he held numerous professional leadership positions and was academically prolific," Dr. Matarasso says. "While I will miss him as a mentor, friend, colleague and advisor, we are all comforted to know that his teachings and wisdom will endure through the many lives he impacted and his quotable 'Spira-isms.'"
Dr. Spira graduated from the Northwestern University (Evanston, Ill.) School of Dentistry in 1947. He followed that by enlisting in the U.S. Navy and serving as a lieutenant in the Navy's Dental Corps. Upon discharge, Dr. Spira entered medical school and graduated in 1956 from the Medical College of Georgia. He trained in general surgery at Duke University Medical School and completed his plastic surgery residency in 1961 at Baylor College of Medicine, Houston.
Dr. Spira chose an academic career in plastic surgery and set upon a path to give back to the specialty – and humanity – whenever and wherever he could.
"Somehow I picked up the concept of 'Don't belong unless you can contribute,'" he recently told PSN. "If you can't contribute, you don't belong in the organization."
He revealed that his work ethic was primarily influenced by his mother, a Russian emigré at age 11, and his father, who he followed into dentistry and with whom he practiced until his Navy enlistment.
Dr. Spira was appointed head professor and head of the Division of Plastic Surgery at Baylor University in 1976. He served as chairman of the American Board of Plastic Surgery and received 24 national and international awards for his work and research over the course of his career. Dr. Spira trained scores of plastic surgeons who would go on to leadership positions in several specialty-related organizations, including ASPS.
"He was a giant among giants," says ASPS past President Rod Rohrich, MD, who is also editor-in-chief of PRS and PRS Global Open. "What was amazing about him is that for all his accomplishments, he was always such a humble man. He was a tremendous leader and it speaks volumes that he ended up training so many of the specialty's leaders."
ASPS past President Phil Haeck, MD, who also trained under Dr. Spira, says he has a wealth of memories – and lessons – from his time under Dr. Spira's tutelage.
"In the O.R., you were always addressed as 'Son,'" Dr. Haeck recalls. "As in, 'Son, now that was the worst incision I have seen you make yet.' He was kidding of course. I remember one of Houston's notorious TV news reporters interviewed Dr. Spira about a child whose insurance wouldn't cover the costs of a cleft lip. On camera, Mel beamed into the lens and said, 'Bring the child to me.' My wife and I use that phrase to this day. He was the most quotable surgeon I have worked or trained with."
During 50 years in practice, Dr. Spira served as a visiting professor in 50 institutions across the globe authored or co-authored more than 35 chapters in plastic surgery texts and published more than 200 articles in peer-reviewed scientific journals.
Following his retirement, Dr. Spira participated in dozens of overseas surgical mission trips, participating in his last at age 89 – when he performed cleft lip and palate repair in Saigon. Baylor College of Medicine in 2014 created the Melvin Spira Endowed Chair in Plastic Surgery.
Dr. Spira had been living his last years in the La Costa Glen retirement community in Carlsbad. Dr. Matarasso at Plastic Surgery The Meeting 2019 awarded Dr. Spira the ASPS Honorary Citation Award (it was the second time he was bestowed the honor; he was first granted the ASPS Honorary Citation Award in 2011 and also recognized with the ASPS Special Achievement Award in 1995). Dr. Spira was preceded in death by his wife of 61 years, Rita Silver, in 2014. Survivors include his daughters Mary Ann Rose, MD, and Pamela Beth Fishman; four grandchildren; and his companion, Evelyne McNeil Browne.