FDA recognizes The PSF-supported FACE-Q as a Medical Device Development Tool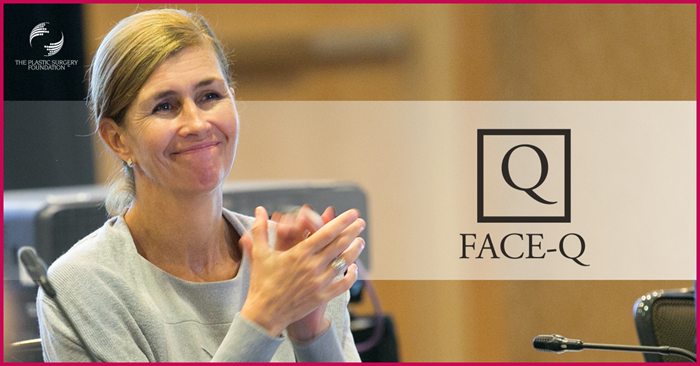 The FDA last week announced that it had accepted the FACE-Q as a qualified Medical Device Development Tool (MDDT) – a decision that not only provides the agency with patient perspective when it comes to evaluating new aesthetic treatments, but also national recognition for an idea that came into being thanks to The PSF's grant funding.
The PSF past President Andrea Pusic, MD, MHS, a co-developer of FACE-Q along with Anne Klassen, DPhil, and Stefan Cano, PhD, says the FDA's acceptance underscores the importance of the research made possible every year by The Foundation.
"With this MDDT qualification, the FDA is clearly conveying how important the patient perspective is to the evaluation of new treatments and regulatory decisions," Dr. Pusic says. "Without The PSF's support, the FACE-Q simply would not exist. This is a great example of The PSF's grant funding making a big difference."
The FACE-Q, which was first published in 2013, is a patient-reported outcome measure (PROM) of satisfaction and quality of life following elective surgical and nonsurgical facial rejuvenation. It is comprised of three modules: self-perceived facial appearance, health-related quality of life and adverse effects of treatment. Qualification of the FACE-Q MDDT included eleven scales determined to be most relevant to medical device regulatory decision making:
Qualified Self-Perceived Facial Appearance Scales:
Satisfaction with cheeks
Satisfaction with facial appearance
Lines between eyebrows
Appraisal of lines: Nasolabial folds
Satisfaction with lips
Satisfaction with skin
Qualified Health-Related Quality of Life Scales:
Aging appraisal
Early life impact of treatment
Satisfaction with outcome
Psychological function
Social function
The scales are transformed into scores ranging from 0 to 100 and can be used independently. Higher scores indicate a better outcome for all scales. The FACE-Q is intended to be easily incorporated in routine clinical practice to measure procedural outcomes, and it will provide an important tool with which researchers and clinicians may evaluate the success of various facial aesthetic procedures from a patient perspective.
The MDDT program works to facilitate device development and timely evaluation of medical devices – as well as promote innovation – by providing a more efficient and predictable means for collecting the necessary information to support regulatory submissions and associated decision-making. The program is a way for the FDA to qualify tools that medical device sponsors can choose to use in the development and evaluation of medical devices. Tools such as biomarker tests, clinician-reported outcome measures, patient-reported outcome measures, as well as non-clinical assessment models (e.g., animal or computational models) and digital health technologies such as sensors or wearables, play an important role in helping the FDA understand how medical devices work in terms of safety, effectiveness and other aspects of performance.
When deciding whether to qualify a tool, the FDA evaluates the tool and available supporting evidence to determine whether it can be used as intended to produce scientifically plausible measurements within a specified context of use. Medical device sponsors can use qualified tools and be sure they will be accepted by the FDA without the need to reconfirm the suitability and utility of the tool within the same context of use.
FACE-Q, along with BREAST-Q, which was also developed by the same team led by Dr. Pusic, are among the very few PROMs that have ever received MDDT qualification by the FDA.
More information on FACE-Q can be found at qportfolio.org/face-q, and more information on the MDDT program can be found at fda.gov/medical-devices/science-and-research-medical-devices/medical-device-development-tools-mddt#mddts.